Jonathon Joins The Revered Club
| | |
| --- | --- |
| | Jonathon Wright has become the 44th employee to become a member of the Airedale Springs 25 year club. Shown here celebrating along with his fellow club members, Jonathon moved to Oxenhope in October 1987 and joined the Company 3 weeks later as a spring maker/operative. He had previously spent two years working in a Kibbutz in Israel. Jonathan is a great asset to the Company, his manager said recently, "if we only had another Jonathan". Praise indeed. |
Airedale Springs Bounces Back in The UK Awards Arena

A high-tech CCTV system that has revolutionised working practices at our new factory has helped us win a national industry accolade as runner-up in the EEF North East Region Innovative Operating Practices Award.
The annual business awards are hosted by the UK manufacturers' organisation and recognise excellence in enterprise, innovation, environmental performance and skills development among Britain's manufacturers.
As well as finishing runner-up in the EEF Innovative Operating Practices Award, we were also shortlisted for the Environmental Efficiency Award for extensive environmentally-friendly innovations incorporated into our premises.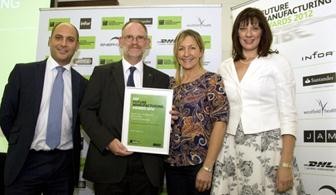 What a Year
2012 has been a significant year. Our business is now set on firm foundations and equipped with the latest technologies to offer our clients a far greater range of product than ever before. We look forward with confidence to developing our business into 2013 and beyond.
If you have business for springs, wire forms or light Pressings then please send
your enquiry direct to our Sales Team at sales@www.airedalesprings.co.uk or call on
Tel : 01535 643456
Christmas Shutdown
We close on Thursday 2oth December and re-open again on Wednesday 2nd January 2013.