Traditional extension springs, as their name suggests, are extended in use and apply a load in tension. Their design does not limit the length that they may be extended, which can result in the spring being stretched way beyond their elastic limit; i.e. the point at which the spring does not return to its original length. An extension spring, such as the "Airedale Prison Spring", could be a solution to this problem if the extended length needs to be limited.
Get In Touch
The Airedale Prison Spring consists of three parts; a compression spring and two "U" shaped wire forms.
The two wire forms are pushed through the compression spring from different sides until the ends of the wire forms push up against the ends of the compression spring. When the two wire forms are pulled apart, the spring is compressed until all its coils meet; limiting the total extension of the assembly.
The three components, when fitted in their assembled condition, are used to hold safety netting between the landings in prisons. Their purpose is to allow the safety netting to flex up to a fixed length if somebody falls onto it, but not to the extent that the spring would be damaged and the netting collapse.
Airedale Springs has manufactured the "Airedale Prison Spring" for many years and it is specified on the approved Home Office Specification for H M Prisons.
Our prison springs are made to the highest possible standards, are zinc coated to BSEN 12329 standard, and are supplied unassembled.
Other Applications
This spring assembly design, with its limited extension, has many other uses. We have manufactured springs for boat clubs and marinas to enable sailing craft to be tied up whilst allowing for tidal movements, swell, etc, which is taken up by the extension of the spring assembly.
They have also been used for medical instruments and throttle cables. The only design constraint is that the two wire forms must fit though the inside of the compression spring.
If you are a contractor refurbishing one of our H M Prisons, or you have any use for a limited length extension spring application, don't hesitate to contact us today and our friendly staff will be more than happy to help.

GALVANISED SPRING STEEL MATERIAL
WIRE DIA 5 SWG ( 5.385mm )
INNER DIA 22.50mm MINIMUM
FREE LENGTH 130.00mm
TOTAL COILS 12.75
ENDS CLOSED ONLY – NOT GROUND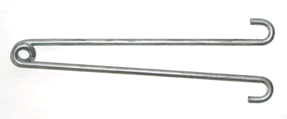 GALVANISED SPRING STEEL MATERIAL
WIRE DIA 6 SWG ( 4.877mm )
OVERALL LENGTH 215.00mm FIXED
COIL INNER DIA 10.00mm NOMINAL
HOOK INNER RAD 5.00mm NOMINAL
HOOK OVERALL LENGTH 20.00mm NOMINAL

GALVANISED SPRING STEEL MATERIAL
WIRE DIA 6 SWG ( 4.877mm )
OVERALL LENGTH 200mm STANDARD
'U' BEND INNER DIA 10.00mm NOMINAL
HOOK INNER RAD 5.00mm NOMINAL
HOOK OVERALL LENGTH 20.00mm NOMINAL