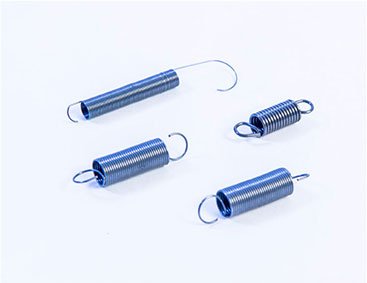 Tension Springs from Airedale Springs
Also known as tension springs, extension springs are similar to compression springs but are loaded in tension. Hooks or loops are provided to allow a force to be applied, as extension springs are usually attached at both ends to other components. When these components move apart, the spring tries to bring them together again. Extension springs are wound to oppose extension and the tension of the wind can be manipulated to achieve the load requirements for a particular application. Tension springs are commonly used in machinery, levers, robotics, the automotive industry and they are a typical feature of a child's back garden, due to their use in the mechanism of trampolines.
Here at Airedale Springs, we have the production facilities required to manufacture a wide range of extension springs, including both crossover and machine loops; and we can supply with both swivel hooks and special inserts as required.
Get In Touch
Versatile Tension Spring Solutions
Our extension springs are perfect for a wide range of uses, such as lever mechanisms and doors; and by consistently producing high quality springs we are able to provide practical and useful solutions to any requirements that our clients may have. Furthermore, if you don't have the final specification before coming to us, we have the expertise and capabilities to work with you to create a final design for tension springs that will fulfil the aim you want to achieve.
We also have a wide range of materials to choose from – depending on your individual requirements – with our engineers available to advise on whether you should opt for stainless steel, or another metal or alloy, when finding suitable extension or tension springs. Different materials will extend and contract in various ways, so it's important to speak to one of our specialist engineers about your requirements.
Specialist Tension Spring Manufacturers
Since Airedale Springs began in 1945, we have completed a large number of orders for tension springs. Throughout this time we have harnessed our capabilities to ensure that we are equipped to deal with custom orders, alongside requests for repeat orders. By listening to what you hope to achieve with your tension spring of choice, we will meet your requests and surpass your expectations.
For more information please do not hesitate to contact us. We are more than happy to discuss your requirements and determine how our manufacturing processes can help you find the solution you are looking for.