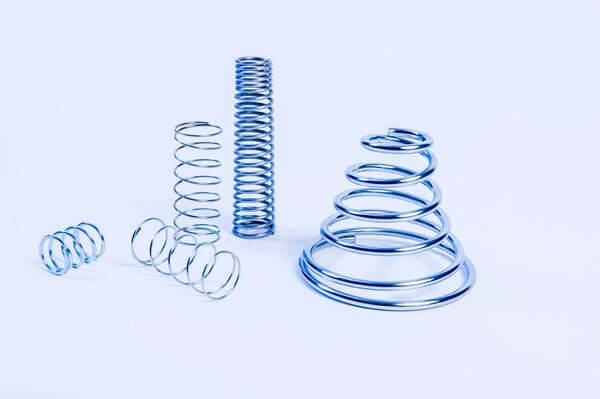 Our Compression Spring Capabilities
Airedale Springs has been manufacturing compression springs for over 75 years. Our extensive experience contributes to us being one of the leading compression spring manufacturers in the UK.
We have a wide portfolio of market-leading CNC coiling machines from manufacturers such as Wafios, Adtech, DKPM, and HTC.
When combined with laser measuring systems, our machining processes allow us to manufacture springs to high tolerances, assuring consistent quality.
Key Features & Specifications
Our compression springs can be manufactured in various shapes including cylindrical, conical, tapered, barrel, hourglass, or convex.

We manufacture bespoke compression springs for a variety of original equipment manufacturers with wire diameters ranging from 0.15mm to 8.00mm.

Our compression springs can be manufactured from a range of high-quality materials including carbon and stainless steels, titanium, aluminium, nickel and copper-based alloys (such as beryllium copper), and special high-carbon steels.

We offer several finishing options and spring-end forms, such as ground or unground ends.
Our experts can consult with you on your project to ensure your compression springs are the optimal design for your intended spring application.
Get In Touch
Industry Standards: Exceeding Expectations
Airedale Springs is committed to delivering compression springs that surpass industry benchmarks. Our springs are meticulously crafted to meet and exceed ISO 9001:2015 standards, reflecting our dedication to quality control and precision engineering.
This ensures that our compression springs consistently offer top-notch durability, resilience, and performance for a wide range of applications.
When you choose Airedale Springs, you choose quality that goes beyond industry norms.
Speak to an Expert
Customisation Options
At Airedale Springs, we understand that one size does not fit all. That's why we offer an array of customisation options for our compression springs, ensuring that your specific requirements are met with precision and care. Our customisation options include:
Materials
Sizes
Finishes
Other Specifications
With Airedale Springs, your compression springs can be fine-tuned to meet your precise needs, ensuring they integrate seamlessly and perform flawlessly in your application
It's helpful to know where a spring is designed to fit and what the sizes of the hole and shaft are.
Please also let us know of any other important dimensions.
Frequently Asked Questions
Which Industries do we manufacture compressions springs for?

Our compression springs are used in a variety of applications and industries, including:

Aerospace

Automotive

Medical

Industrial machinery

Consumer products

Electronics
Others

Please get in touch to find out how we have helped others in your industry and to find out what we can do for you.

What are compressions springs?

A compression spring is an open-coil helical spring that offers resistance to a compressive force applied axially. They are the most common spring configuration and are one of the most efficient energy storage devices around.

When you apply pressure to a compression spring, making it shorter, it pushes back against the load, trying to get back into its original length.

These types of springs are found in several different industries, as well as everyday objects. Some of these include valves, railways, turbines, wheelchairs, engines, toys and electronics – their popularity is due to how versatile they are since compression springs can come in a range of different body sizes, diameters and pitches, depending on their application.

From the paper industry to the offshore oil and gas sector, as well as the medical industry, these springs can be found everywhere. Other common uses for compression springs include shock absorbers in pacemakers and mobile phones.

What's the difference between compression and torsion springs?

Two of our most popular springs are compression and torsion. They can be used in a variety of applications and have their own distinctive features and benefits.

Compression springs are open-coil helical springs that offer resistance when a force is applied axially. They are one of the most common types of springs, as well as the most efficient when it comes to storing energy. When pressure is applied to a compression spring, it becomes shorter and pushes back against the load, as it tries to regain its original length.

Torsion springs are also a type of coiled spring. They are usually chosen when there's a need for angular movement with the legs of the spring attached to other components. As those components rotate around the centre of the spring, it attempts to push them back to their original position. For a torsion spring to have a good design, it needs to be used in the direction that winds the coil.

How Are Compression Springs Designed?

We take spring design very seriously, as we aim to ensure that our springs are always of the highest possible quality. When it comes to designing compression springs, we need to consider several elements, such as the spring material, the spring wire diameter, the diameter of the spring itself, the length of the spring, the number of coils, the type of spring end (not closed, closed but not ground, or closed and ground), and direction of wind (left-hand or right-hand).

What Are the Materials Used in Compression Springs?

Springs are used in many different sectors, so they will have to withstand the conditions of the environment they're placed in. For example, springs used in oil rigs need to not only be able to withstand normal wear and tear but also be resistant to corrosion. Springs need to be able to bend but not break and release stored energy when required, all of which will depend on several factors, including the materials used to manufacture the springs.

At Airedale Springs, some of the materials we use include:

High carbon steels – Suitable for both lower and higher stress applications, due to their tensile strength.
Stainless steels – Ideal for environments where a high degree of corrosion and heat resistance is a concern.
Alloy steels – Chrome vanadium and chrome silicon are alloy steels ideal for chock loads, like engine valve springs.
Non-ferrous alloys – For applications where springs need to resist high temperatures and corrosion, as well as have great electrical conductivity, cold-drawn copper alloys are the best solution.
Hot temperature alloys – Materials such as nickel and chromium alloys are perfect for applications that require good resistance to corrosion at high temperatures.

How Many Cycles Do Compression Springs Last For?

While it's impossible to say for sure how long the lifespan of a compression spring is, there are several factors that can contribute to a longer – or shorter – life cycle, since they impact the service life of the spring in one way or another. For example, it's important to consider the environment where the spring will be placed in; the less corrosive or hot, the more a spring will last.

Other factors include whether the spring will operate with an uneven load, the surface treatment of the spring, its compression speed, if there is any wear and tear as the spring touches other objects, and whether it's a hot- or cold-wound spring.

Unsure About What Compression Spring You Need?

We have an array of clients who come to Airedale Springs with a specific purpose in mind; we strive to work within their requirements, working with them to determine the size and specifications that their needs necessitate.

However, if you know the precise measurements and design of the springs you need, we will verify your design to optimise manufacture and work with you to meet your delivery requirements.

Want to Learn More About Our Compression Springs?

Having decades of experience in creating compression springs, tension springs, various wire forms, and an array of other spring types, we are equipped to achieve your desired result when it comes to product specifications.

As specialist compression spring manufacturers, we operate state-of-the-art CNC equipment which can manufacture an extensive range of compression springs, with forces and finishes to meet the needs of our customers.

If you would like to find out more about our design assistance, sampling process or the manufacture of the spring for you, please don't hesitate to call our team on 01535 643 456.