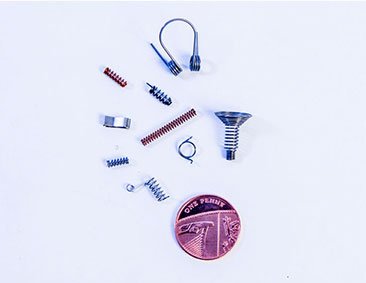 Small Springs from Airedale Springs
Your definition of small springs may vary, depending on what you're accustomed to. However, whatever your particular definition may be, Airedale Springs offers small spring manufacturing with a flexible service to supply you with the precise coil spring or custom wire form that you need.
Get In Touch
How Small Can We Manufacture Small Springs?
With no set industry specification for a "small spring", it is essentially a relative term; if you're used to working with heavy gauge springs with an 18mm wire diameter, then anything smaller will be a small spring to you, whereas if your normal stock is made from 4mm diameter wire, that would be your base line.
At Airedale Springs, our coiling wire range covers a wire diameter of between 0.15mm and 10mm, meaning that we can cater to a wide range of specifications, and for a wide range of applications.
Whether you're looking for small compression springs, torsion springs, or any other type of spring, our technical team can apply their many years of experience to help you get the most appropriate coil spring or wire form for your needs. Furthermore, our custom service means that we can give design assistance and create a spring that meets your needs.
We offer advice on materials, finishes, and particular restrictions concerning smaller spring sizes – for example, if you would usually have the ends of your compression springs ground flat, this is not recommended when the wire diameter is below 0.5mm.
Contact Airedale Springs for Small Spring Manufacturing Today
Airedale Springs is a family business with a strong reputation for up to the minute expertise and unparalleled customer service. We combine traditional skills with cutting-edge manufacturing capabilities to give you the best quality products, whether you need a one-off custom order or a bulk spring order.
Whatever your definition may be when you think of small springs, we can help. For more information, or to discuss your requirements, all you have to do is contact us on 01535 643456, and speak to one of our friendly team of experts.
Frequently Asked Small Springs Questions
What types of small springs do you manufacture?

At Airedale Springs, we specialise in manufacturing a wide range of small springs to meet diverse industrial needs. Our expertise covers the following types of small springs, as an example:

Compression Springs: We produce compression springs in small sizes that exert a force when compressed. These springs are commonly used in applications where they need to absorb shock or maintain resistance against applied pressure.
Torsion Springs: Our small torsion springs are designed to exert rotational force or torque when twisted. They find applications in various industries, including automotive, electronics, and medical devices, where rotational energy is required.
Tension Springs: We manufacture small tension springs that are designed to stretch and exert force when pulled apart. These springs are commonly used in applications such as trampolines, garage doors, and various mechanical assemblies.
Wire Forms: Airedale Springs excels in producing small wire forms, which are custom-shaped wire components. These versatile springs can be fabricated into various shapes and configurations to meet specific requirements in industries such as electronics, automotive, and aerospace.

We can manufacture small springs of any nature, so please get in touch to discuss your requirements.

Can you manufacture small springs with specific end configurations?

At Airedale Springs, we are pleased to offer our customers the flexibility to manufacture small springs with various end configurations to suit their specific needs. We understand that different applications require different end designs to optimise performance and integration.

Closed Ends: Provide a more secure and stable connection. Closed ends can prevent the spring from spreading or separating, ensuring consistent performance and preventing damage to surrounding components.

Open Ends: For applications where small springs need to be attached or connected to other components, we can manufacture springs with open ends. Open ends allow for easier attachment, whether it's through hooks, fasteners, or other means, while still providing the necessary spring functionality.

Hooks: Our manufacturing capabilities extend to small springs with hook configurations. Hooks can be useful for applications where the spring needs to be suspended, attached, or connected to other components. We can design and produce hooks of various shapes and sizes to meet your specific requirements.

Do you have experience in producing small springs for specific industries?

We have a wealth of experience in producing small springs for a wide range of industries, including the electronics sector. Our expertise extends to collaborating with manufacturers across various industries, such as automotive, aerospace, medical devices, consumer electronics, and more.

Our collaboration with manufacturers from different industries has given us a deep understanding of the diverse applications and challenges they face. This allows us to offer valuable insights, technical support, and customised solutions to ensure that our small springs seamlessly integrate into your manufacturing processes and products.

What is the minimum order quantity for small springs?

Airedale Springs has no minimum order number. Whether you need one small spring or hundreds, we can manufacturer them for you.

While we don't have a set number of minimum batches we do have a minimum charge. So, it can be more economical to purchase larger volumes, since you may end up paying the same as you would for a smaller order.

There is no upper order limit.