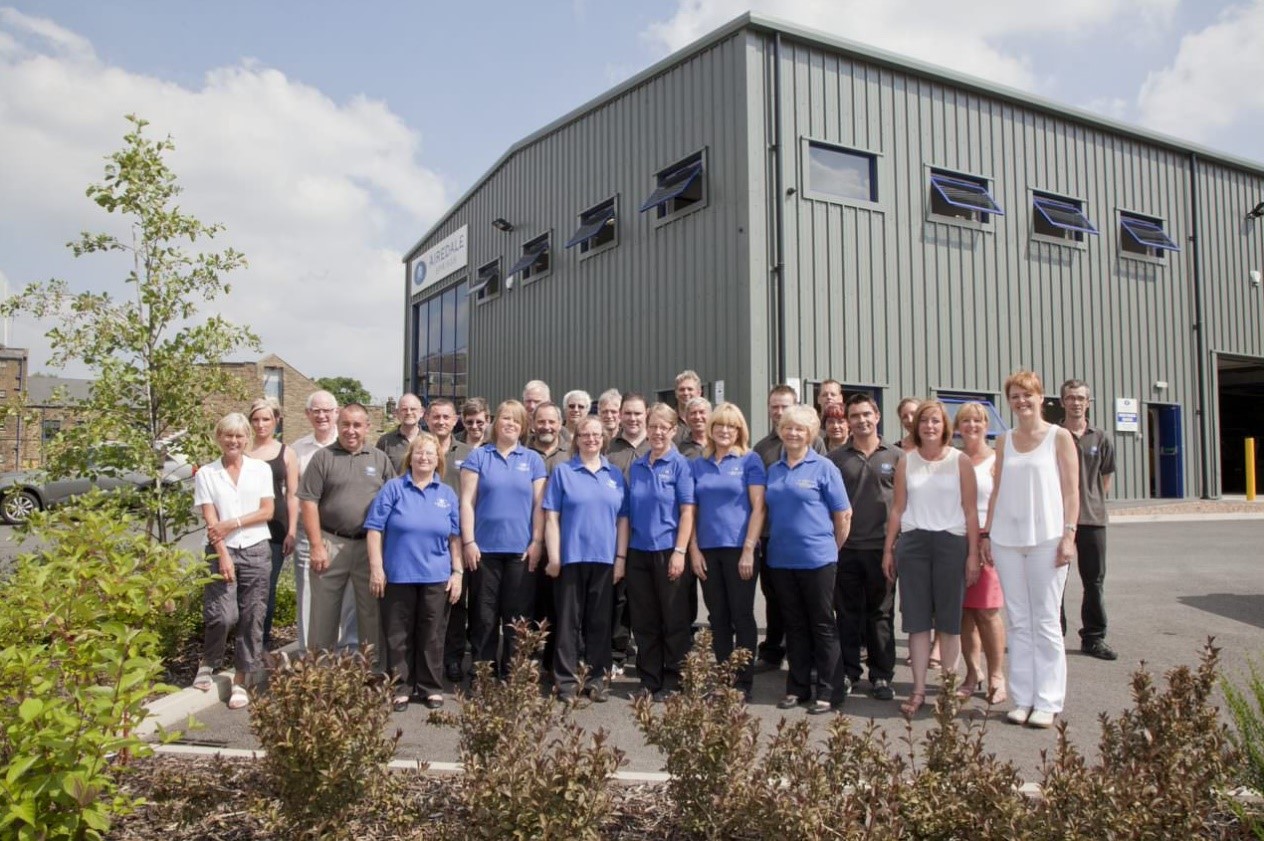 Why Choose Airedale Springs as Your Spring Manufacturer?
As a family-run, award-winning company with over 70 years of experience in the manufacturing world, Airedale Springs is a leading spring manufacturer in the UK with a fantastic global reputation. We've been assisting in designing and creating springs for a variety of customers across a wide array of sectors, such as engineering, leisure and aerospace.
Our focus on delivering quality products has allowed us to work with a number of high-profile manufacturers and inventors, including the masterminds behind the Brompton Bicycle.
So, what exactly sets Airedale Springs apart from our competitors?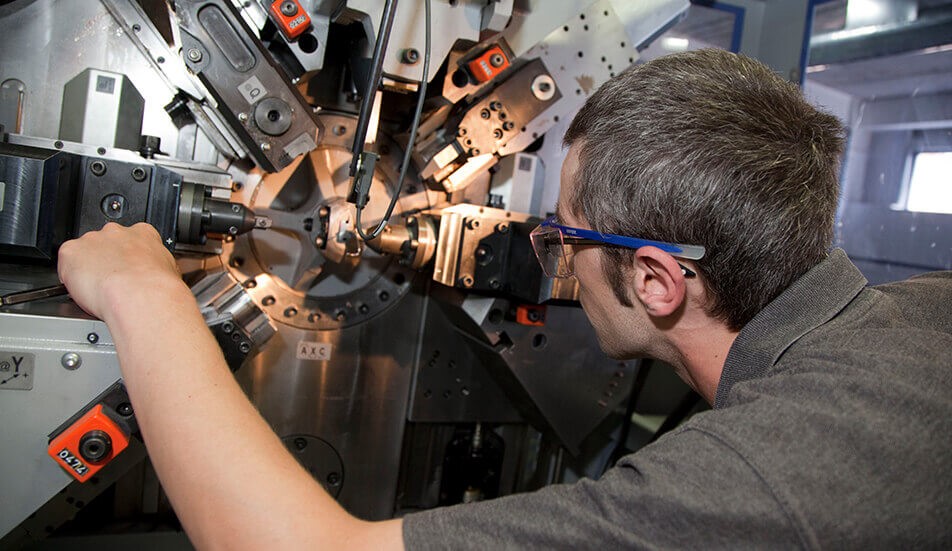 We Invest in Our Employees
At Airedale Springs, we have a unique position and relationship with the people we work with, so you'll find a good mixture of young and experienced team members. In fact, half of our employees have been with us for well over 25 years.
The average age of our employees is 45 years, which is lower than the engineering industry average; this is because we invest heavily in apprenticeships and in training people. The benefits this offers, besides creating a well-trained and loyal workforce, is that we are helping to bridge the current skills gap in the manufacturing industry as well.
Of course, we also employ great people who love what they do! Without them, Airedale Springs wouldn't be what it is today.

We Offer a Service Tailored to Your Project 
When you contact us to discuss the products you require from Airedale Springs, we are always more than happy to give you advice on the best type of springs, wire forms or pressings for your project. After all, our many years of experience as a spring manufacturer, as well as the multitude of sectors and clients we've work with, give us invaluable insight into the specifications and features required for your project.
Our manufacturing process has been streamlined to produce bespoke work that meets the most demanding of requirements. The first thing we do after discussing your project with you is to design and prototype your product; we work alongside you to ensure that the spring or wire form matches your exact specifications. Then, when it's time to mass produce your product, you can rest assured that we have the ability to manufacture the necessary volume of pieces you need, from one to one million – all without compromising on quality.
After undergoing the most rigorous quality control (Airedale Springs are accredited to the ISO 9001-2015 standard), your products will be delivered on time and if required protected from tangling during transportation, which will facilitate auto-assembly. We're passionate about offering a reliable delivery service at all times, so we embrace direct line delivery, Kanban replenishment and consignment stock control.
We Only Use Superior Materials
Another reason why it's so easy for us to manufacture high-quality products is that we only use the best spring materials. Because we've been in business for over seven decades, we have developed a great network of exceptional suppliers. From carbon and stainless steels, titanium, aluminium, to nickel and copper-based alloys and special high carbon steels, we always choose superior quality. Airedale Springs also has a range of decorative and protective finishes available.
Our Equipment is the Best On the Market Today

We have a wide range of modern CNC coiling and wire-forming machines manufactured by Wafios, HTC and DKPM and Adtech. All of our setters are trained to operate and maintain the full range of our CNC equipment and are encouraged to make full use of the machines' capabilities to improve consistency, quality and production methods.
Make
Type
Year
Details
Benedits
Image
Wafios
F2
2012
CNC Coiler
Optimum cost-per-unit ration in compression spring manufacturing

Wire diameter 0.35-1.6mm

Wafios
F2
2018
CNC Coiler
Precision with latest measuring and control technology

Flexibility due to modular design

Wafios
F3
2018
CNC Coiler
High availability thanks to reliable and proven machine control and easy-to-maintain design

Wire diameter 0.7-3mm

Wafios
FUL45
2012
CNC Coiler
High quality standards with zero error production

Highest output with optimised unit costs

Wafios
FMU 16
2015
CNC Wire Former
High quality standards ensure zero-error production

Diameter range 0.40-1.60mm

Wafios
FMU 1.7
2012
CNC Wire Former
Very high flexibility and user-friendliness through numerous options

Maximum wire diameter of 1.6mm

Wafios
FMK 2
2012
CNC Wire Former

Cost-optimised solution and zero-error production

Wire diameter 0.6-2mm

Wafios
FMK 2
2013
CNC Wire Former
High flexibility which creates market opportunities

Wide variety of possible uses, such as torsion spring coiling

Wafios
FMU 2.7
2014
CNC Wire Former
Great for small and medium-sized batches
Wafios
FMU 4.7
2012
CNC Wire Former
High quality standards with zero-error production
Wafios
FMU 40
2016
CNC Wire Former
Comfortable programming of complex spring geometries

Wire diameter 1.8-4mm

Adtech
2208
2011
CNC Coiler
Ability to produce a wide range of products, including compressions springs and wire forms

Wire diameter 0.15-0.8mm

Adtech
416
2011
2011
CNC Coiler

Manufactures compressions springs of any shape without needing to adjust mechanical parts

Wire diameter 0.4-1.6mm

HTC
28CF
2011
CNC Coiler
USB data interface, great for program backup and production management

Machine stops if programming error exceeds machine setup capabilities

DKPM
KCT226
2017
CNC Coiler
Easy to operate, low levels of noise and capable of a high degree of precision

Wire diameter 1-3mm

DKPM
KCT680
2014
CNC Coiler
High precision, easy to operate and quick, capable of saving spring testing time and cost of raw material

Wire diameter 3-8mm

Our dynamic company has been producing a wide range of bespoke springs, wire forms and pressings since it was founded in 1945, and we apply the knowledge and expertise we gained over all these years on you, our client. Our manufacturing process is backed up by excellent customer service and support as and when you need it, so contact us today on 01535 643456 or email us on sales@airedalesprings.co.uk to learn more about how we can help