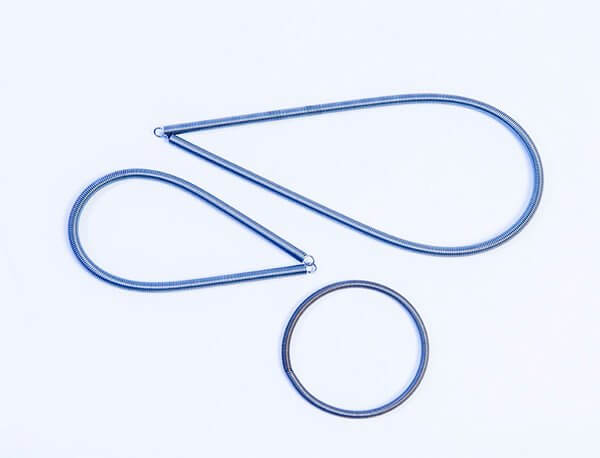 Garter springs are helical springs whose ends are connected to form a circle which then provides a strong radial force. They are formed from extension springs to provide a contracting radial force.
To connect the garter spring into a loop, one end may be coned so that it fits tightly into the other end and creates a nib joint, or it may be looped so that it can be hooked on to the opposite end. They can be supplied pre-assembled into loops, or in lengths – this is particularly useful for standard weights or diameters, as it allows you to cut and assemble your garter springs as needed.
Typically made from carbon steel or stainless steel wire, garter springs are often utilised in oil seals and shaft seals, motor drive belts and conveyor systems. The constant radial force which they exert is ideal for creating a pressurised seal around a pipe to prevent leakage or contamination.
Get In Touch
Contact Airedale Springs for High-Quality Garter Springs
At Airedale Springs, our advanced CNC machines are capable of manufacturing a wide range of garter springs, engineered to meet the precise requirements of your project. Taking into account the size you require, the forces and stresses involved, and the conditions under which it will be used, we can help you with the right solution. Long lengths up to 3 meters can be supplied in cardboard tubes to maximise protection and reduce distortion.
Whether you require a small batch of garter springs or a large bulk order, Airedale Springs offer a high-quality service and a product you can truly rely on. For more information, contact us to speak to a member of our knowledgeable and professional team.
It's helpful to know where a spring is designed to fit and what the sizes of the hole and shaft are.
Please also let us know of any other important dimensions.