Thousand of people enrol in apprenticeships every year in the UK, spanning over 170 different industries. Apprenticeship schemes are available in almost every sector, from construction to plumbing, graphic design and, of course, manufacturing. Not only do apprenticeships give people the opportunity to develop valuable real-world skills, but they also allow you to earn whilst you learn and the chance to kick-start a career in your chosen trade.
In celebration of National Apprenticeship Week, which runs from 7th – 13th February, we're going to take a closer look at manufacturing apprenticeships like those offered by Airedale Springs.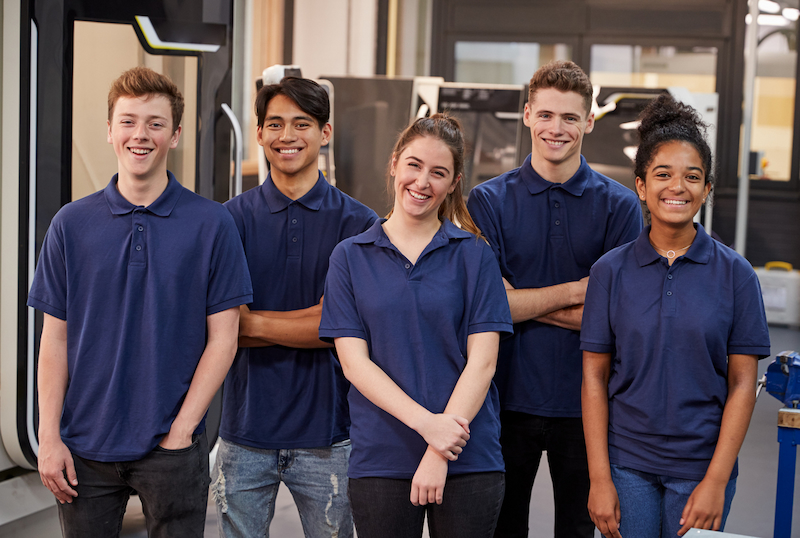 What is Manufacturing?
Almost every man-made object we use has been manufactured somehow. In short, manufacturing is the process of turning raw materials such as metal, plastic or fabric into a finished, useable product, often on a large scale. The process usually involves several fine-tuned steps that manufacturers are constantly seeking to improve in order to maximise output whilst still producing high-quality products.
The products made may be sold to wholesalers and retailers for sale to the general public or used for parts in other products – like our compression springs, which go on to be used as parts in hundreds of different products after leaving our factory.
Sometimes, the manufacturing process is carried out by automated machinery instructed by computer programmes, and other products are handmade with tools in small workshops. As you can imagine, the broad nature of manufacturing processes and techniques means a huge variety of manufacturing apprenticeships are available across the country, from small workshops to large factories. Manufacturing companies produce the parts required to keep other industries supplied with the materials they need to make their products.
Manufacturing environments require employees in a variety of job roles to ensure production is as efficient as possible. The responsibilities will vary depending on the type of product being manufactured, but most manufacturing companies will have employees trained to:
Operate production line equipment
Use tools and machinery to produce and assemble the products
Monitor product quality through quality control
Ensure processes comply with legislation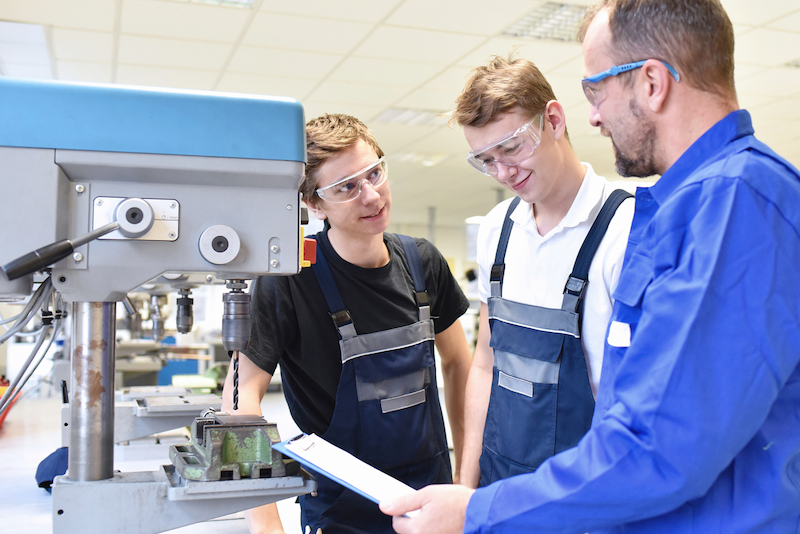 Who is a Manufacturing Apprenticeship Right For?
Manufacturing apprenticeships are well suited to anyone skilled in critical thinking. The ability to identify when processes are not working as they should and apply logic and reasoning to work towards a solution is invaluable to the manufacturing industry. At its core, manufacturing is grounded in using science and mathematics to pinpoint processes' strengths and weaknesses.
It's all about having a thorough understanding of the materials and machinery you're working with to create the final product and finding better, leaner ways to do things. For example, a manufacturing apprentice at Airedale Springs will not only learn how torsion springs are made but how we achieve optimum quality when making them whilst also meeting deadlines.
A manufacturing apprenticeship like those offered by Airedale Springs could be right for you if you believe you have the following skills:
Excellent communication
Creativity
Good problem solving and critical thinking
A strong grasp of mathematics and physics
High IT ability and an interest in technology
Project management
Ability to meet deadlines
Which Type of Manufacturing Apprenticeship is Right for You?
If you've read the above and decided it matches your skillset and interests, the next step is to determine what kind of manufacturing apprenticeship you want to pursue. As discussed, manufacturing encompasses so many different industries you'll likely be spoilt for choice. Some of the prevalent industries offering manufacturing apprenticeships include:
Textiles
Food Production
Injection Moulding
Furniture
Pharmaceuticals
Manufacturing is an integral part of so many industries, and there is a wealth of opportunity available for anyone with the right mindset and enthusiasm. If you're still stuck on which kind of manufacturing apprenticeship is right for you, we would always advise looking for a scheme that offers the opportunity to train in various roles within the company.
To get the most out of your training and develop your skills further, you'll want to experience how the whole operation works and how it fits together to form the manufacturing process. For example, as an Airedale Springs apprentice, you would not only learn how extension springs are made, but also why we use the materials we use and how to balance high output with high quality.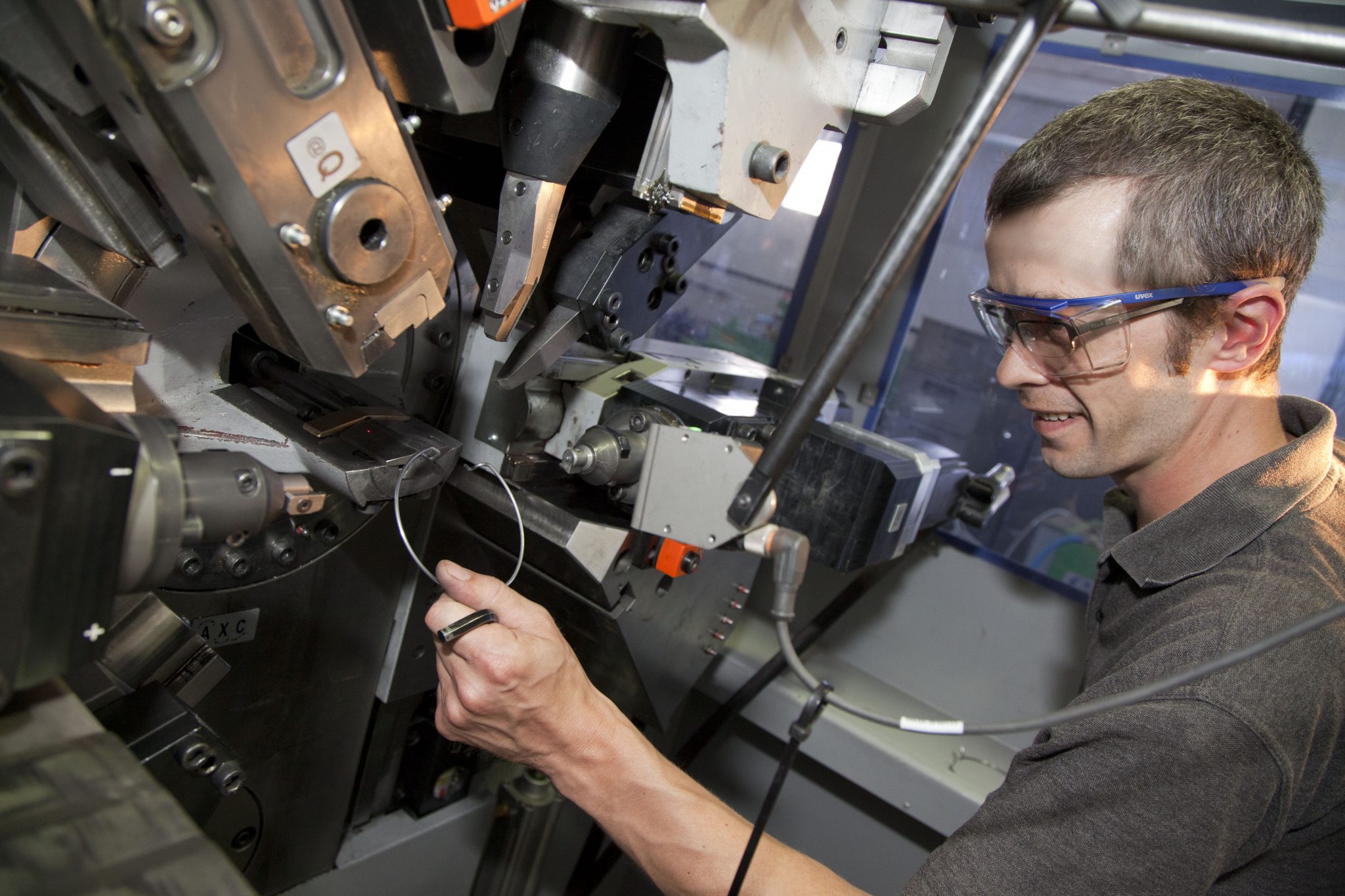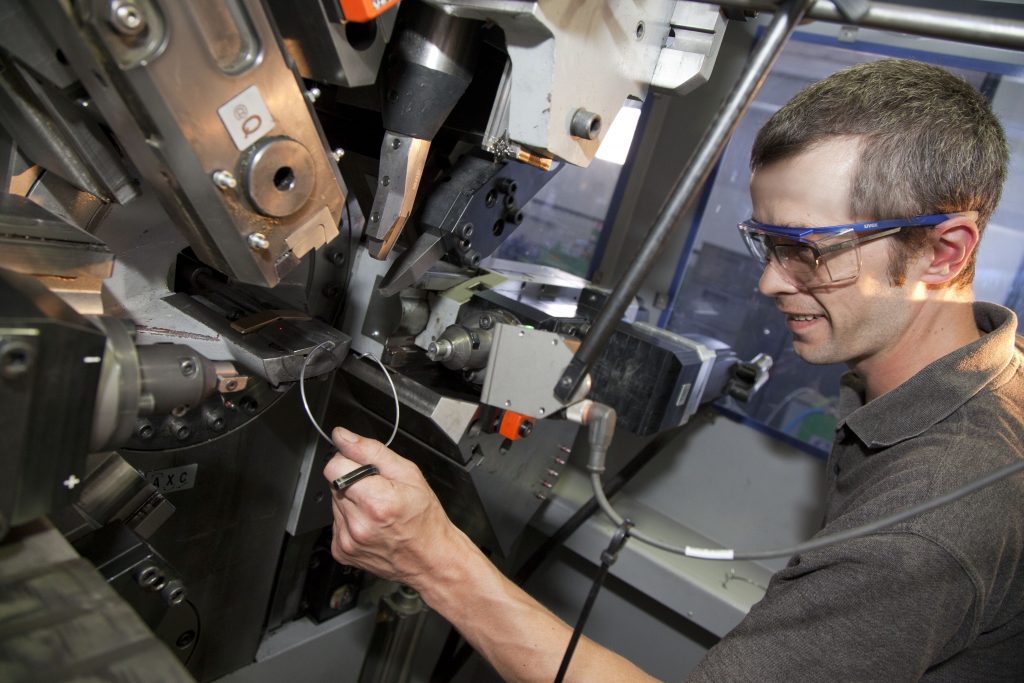 Apprenticeships at Airedale Springs
Here at Airedale Springs, we're serious about apprenticeships and their opportunities for the next generations. Our chairman created the National Training Standards for Spring Manufacture for Level 2 Apprenticeships to ensure young people, for years to come, have an accessible route into spring manufacturing.
Many of our employees started as apprentices and have been with Airedale Springs ever since; we even have staff who have worked for the company for over 50 years. We do this by recognising the potential in people and cultivating a friendly, enjoyable environment to work and learn in.
Contact us today if you're interested in a career with Airedale Springs or would like to learn more about what we do.