With the New Year just around the corner, we would like to reflect on the past twelve months. Due to the COVID-19 pandemic, 2020 was a year full of unique challenges, especially for manufacturers around the world.
However, it's important to take stock of all the lessons this challenging year has taught us in order to keep growing as a company.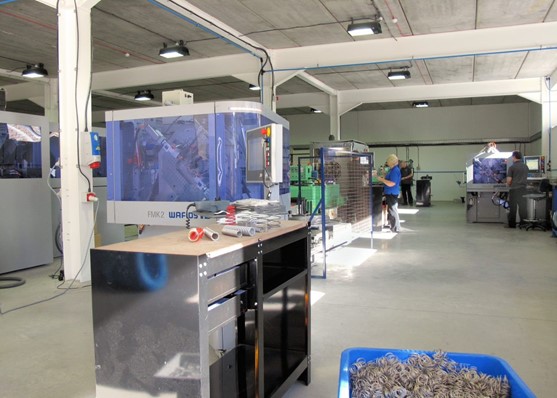 Working from Home Doesn't Mean Employees Are Not Productive
Working from home has been a contentious topic for years, with disagreement over whether it improves productivity or not. The lockdown and social distancing measures implemented due to the coronavirus proved businesses could quickly adapt to the new circumstances and employees were able to work from home without major issues.
This is not surprising considering the rapid technological advancements we've seen in the last few decades. From group video calls to the ability to check email at home, the virtual office became a reality for many in 2020.
Whilst manufacturing businesses were slightly different due to it being impossible to manufacture from home, there are still roles in manufacturing companies that can be performed remotely. This includes roles such as admin, which helps when it comes to following social distancing guidelines – allowing space in the workplace for people who physically need to be present.
Automation is Clearly Essential
The industry was already moving towards smart factories and the increased use of technology in all areas, from the office to the factory floor. With 2020 forcing many companies to shut down or slow down operations, it quickly became clear that facilities that are automated and not dependent on only human workers were able to remain productive.
For example, as spring manufacturers, our employees are absolutely crucial to the functioning of the company, but we also use automated CNC coiling and wire forming machinery to create springs and wire forms for our clients. This allowed us to keep going through the pandemic and even help other companies.
Our machines can produce thousands of components every day, as you can see from the example below, which manufactures 42,000 circlips in only an hour.
Global Supply Chains Are Vulnerable
No one expected global disruptions like we saw this year, but they highlighted the weaknesses in the supply chain. Countries trade with each other and, many times, depend on specific parts and components made abroad, which is a process that tended to flow without major issues.
When suppliers closed because of the virus, products were delayed for weeks and months, which had a snowball effect on the supply chain. Companies were unable to stay open or lost a lot of revenue because of this.
So, in order to future-proof against similar issues, manufacturers can find local sources instead, which would leave them less vulnerable to large scale disruptions. It would also reduce transportation time and costs.
Cooperation is Key
Cooperation with other businesses and sectors became the norm in 2020 as well. We've already spoken about the importance of collaboration but it's important to reiterate that, by doing so, businesses can increase the quality of the products and services they offer.
We saw how car companies and other manufacturers worked hard to produce ventilators for the medical sector, and this is just an example of what businesses can achieve together. Different companies have different levels of expertise and knowledge so, by working together, they can fill in these gaps and become more efficient.
They can also innovate a lot more, which clients will definitely benefit from.
Manufacturers Must Be Flexible
This is, perhaps, one of the most important lessons to take from 2020. While it's crucial to be prepared for any eventuality, the pandemic showed us how the unexpected can change everything in a moment. So, manufacturers should plan ahead and prepare, but should also be flexible and able to adapt to new circumstances if necessary.
Automation also needs to be flexible. Machines that are difficult to adapt to new workflows, for example, can make manufacturers' jobs a lot more difficult. Investing in cloud-based automation can be a great way to stay competitive, as you'll still be able to continue operations even if your processes have to change.
2020 was an interesting year to say the least and, at Airedale Springs, we believe it also taught us a lot. We're looking forward to continuing developing our methods and processes and to carry on using cutting-edge equipment to manufacture our products.
You can check out our CNC machinery in our 'Why Choose Us?' page, which cover a wire diameter range of 0.15mm and 10mm.
If you'd like to learn more about our springs and wire forms, don't hesitate to contact us today on 01535 643456 or send us a message to sales@airedalesprings.co.uk.