To allow for engineering to advance, investments are often needed. They allow new technologies to be bought, new talent brought in, and vital research to be made. An investment like this has been made at the University of Wolverhampton, which is spending £12 million to help the training of the next generation of engineers. We're going to take a look at what they've invested in, and how this will aid the future generations of engineers.
 The investment is in response to news that by 2020, there is an estimate from experts that 200,000 more qualified engineers will be needed than will exist in the UK, damaging the engineering reputation that the country has. These investments will support efforts to grow the economy of both the UK and the local economy by providing all the workers we will need in the industry and allowing it to grow.
Most of the £12 million will be spent at the Innovation Campus in Telford, which will allow the centre to train a skilled workforce working to create car engines, specialist electronics and telecommunications. A Formula One specification wind tunnel, engine test facility, and 3D printing facilities will be added to the facility in order to provide students with advanced knowledge in the car industry. The university has also bought its own Formula One car which will be worked on by a team of engineering students and staff and tested by professional drivers.
Following the investment, the University of Wolverhampton can now run new courses in automotive & motorsport engineering, chemical engineering and electronic & telecommunications engineering, with food and aerospace engineering being added later on too.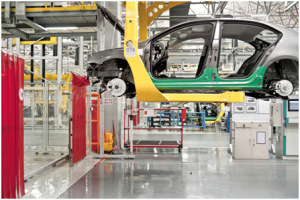 Investments in engineering are happening all over the UK, with UK businesses estimated to invest nearly £10 billion per year to engineering research. Investments like this advance the UK's reputation for engineering as well as aid in economic growth. Many in the field have argued that there is still not enough funding coming from the public service, with many stating that it can't just be up to the private sector to put money in.
Here at Airedale Springs, we love to hear about investments into the engineering industry that we're proud to operate in. Our products and services, including our high-quality compression springs allow other businesses in the industry to create durable and innovative products, and that's why we provide the best service we can. If you would like more information about the products that we can provide, don't hesitate to contact us on 01535 643 456 and a member of our team will be happy to help.