When young people decide on their professional futures, one common assumption is that a university degree is the only way to guarantee themselves a profitable career. Still, it's not the only path they can take.
This perception is compounded when addressing complex subjects such as the STEM industries, STEM is made up of science, technology, engineering and mathematics skills; these skills are crucial to industry and manufacturing. A student can start their professional life in STEM far sooner than they expect. Whilst choosing to spend time at a university studying will be helpful, it is not the only way to achieve this goal. One excellent alternative is to select an engineering apprenticeship.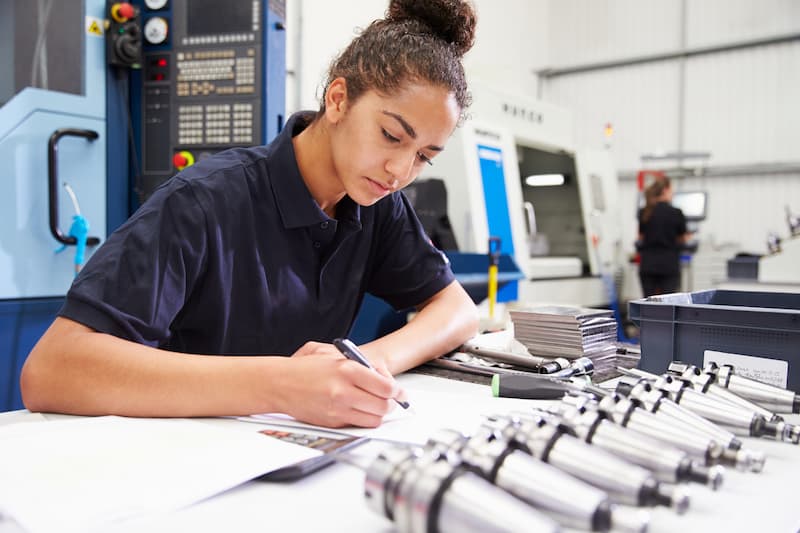 What to Expect from an Engineering Apprenticeship
An engineering apprentice at Airedale Springs will discover an effective training program that provides many opportunities as they enter the engineering world without needing a university degree. A successful applicant will be tasked to commit to a full-time combination of employment and academic study that will culminate in earning a nationally recognised qualification.
Three main steps cover all engineering apprenticeships: the study, supervised work and assessments.
Study
The study is similar to what a student would do at university. On average, a couple of days of the week will be dedicated to learning about processes, materials and other engineering aspects. However, when working on an apprenticeship, this study may be contextualised to the work you have been working on for a more personal experience.
Supervised Work
The main difference between choosing an apprenticeship over conventional study is the hands-on work you get to experience. Under supervision from an experienced engineer, you will be able to observe actual engineering work in progress and gain practical experience in these processes. As professional spring manufacturers, every member of our team is well equipped to assist new apprentices as they learn. In addition, the ability to take the theoretical learning of study and employ it in everyday work will remarkably affect any engineering apprentice and significantly improve learning retention.
Assessments
Reviews are an essential part of an apprenticeship. By addressing the results of regular assessments, the supervising engineers can assist you in filling the holes in your knowledge and adding to your skills. These assessments will take many forms and may also officially cover coursework or exams to earn the national qualification.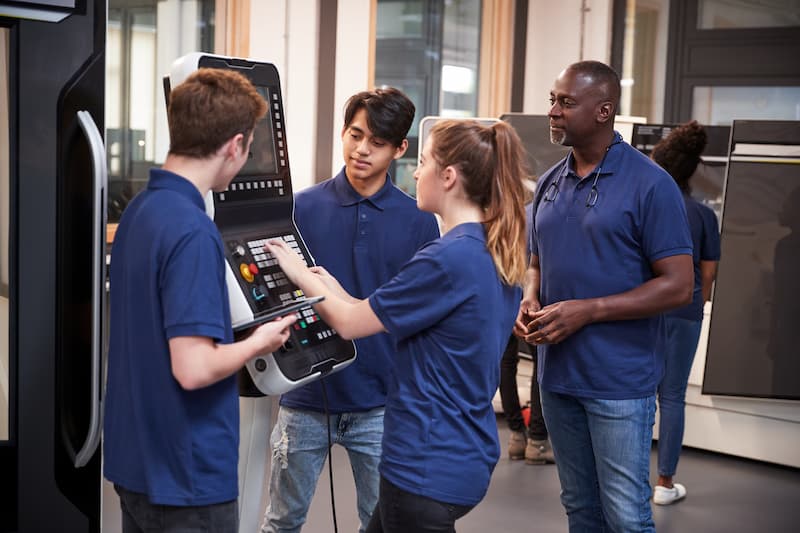 Benefits of an Engineering Apprenticeship
One of the most significant benefits has already been explained, the hands-on experience, but there are many others. For example, earning while you learn is a massive boon for many apprentices. In addition, it's common knowledge that university fees require a significant upfront payment with a loan or bursary, and those fees are increasing. Alternatively, all apprentices will be earning a wage when they start.
At Airedale Springs, we create a positive work environment that encourages our staff to remain with us for long careers. As a result, many of our employees are a part of our 25 club. This means they have been with us for over 25 years, and some have been here for over 50 years. The advantage this brings our apprentices is that our team has a lot of experience with mentoring. They can impart a wealth of invaluable knowledge from many years of practice, which is hard to find in a classroom.
When looking ahead to after you've earned your qualification, you need to consider your future job prospects. Again, apprentices gain an advantage in this regard, as most companies offering apprenticeships will consider offering positions to newly graduated apprentices who will have proven themselves during their work. Additionally, all employers value real experience over theoretical, and an apprenticeship on your CV will be invaluable when applying for engineering positions in the future.
Different Types of Engineering Apprenticeship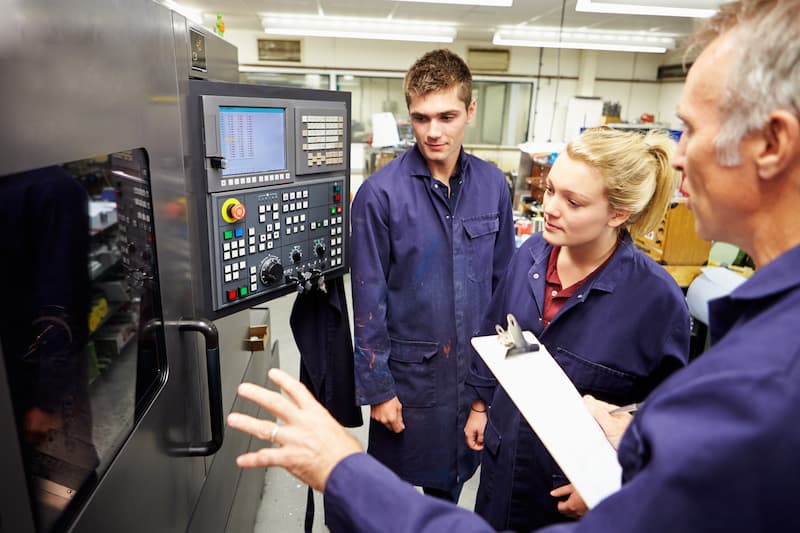 Engineering covers many different roles that create the need for various apprenticeships. The section of the STEM industries is too broad to be covered by a single one so having some idea of what they provide is vital when choosing an apprenticeship right for you. Below are some examples.
A manufacturing engineering apprenticeship is a perfect way to start a career in manufacturing. This choice opens up many avenues that could take an engineer into aerospace, marine, fabrication or technical support, to mention a few examples. For example, you could join a compression spring manufacturer and assist in their creation for clients.
Mechanical engineering apprenticeships focus more on welding, pneumatics, CAD and CNC machining. In addition, the demand for mechanical engineers is rising with the increase in computer-controlled manufacturing plants, leaving no shortage of positions available.
Environmental technologies apprenticeships are a relatively new area for engineering as their focus is on combating the ecological issues that many industries create. Pursuing this focus will lead you to a future of developing innovations that ensure areas such as manufacturing, construction, and building maintenance are more eco-friendly.
Apprenticeship Reforms
From April 2017 Apprenticeships are changing.
Employer Led
Employers are taking a lead in the development of the new Engineering Standards so the programmes on offer reflect industry and occupational skills, knowledge, and attitudes need to be fully competent in the role.
Apprenticeship Levy
All employers with a domestic wage bill exceeding £3 million will have 0.5% of their total wage bill deducted on a monthly basis. These funds can then be drawn down to pay for apprenticeship provision along with the 10% government top-up applied to your monthly contributions.
Co-Investment Model
For all employers with a domestic wage bill under £3 million, apprenticeship training will be funded through co-investment with the government. Employers will be required to pay for 10% of the total cost, while the government will pick up the remaining 90%. For companies with fewer than 50 employees, there is additional funding support.
Funding Bands
Each Apprenticeship Standard or Framework will be assigned to one of 15 new funding bands setting a maximum cost. For example, the most a 3yr degree-level apprenticeship can cost is £27,000. This also sets the maximum government co-investment for non-levy payers at £24,300, leaving £2,700 to be paid for by the employer. Employers will be able to negotiate the cost within the funding band for their chosen apprenticeship.
Degree & Higher Level Apprenticeships
Previously any apprenticeship at level 4 or above had to be either completely funded by the employer or heavily subsidised. Under the reforms higher and degree level provision will be fundable either via your DAS (Digital Apprenticeship Service) account for levy payers or at 10% of the cost for non-levy payers via the co-investment model.
Up-skill Existing Staff
The changes are making this much simpler and more accessible. Any current member of staff can be put onto an apprenticeship for retraining, up-skilling, and career progression instead of traditional courses and training.
End Point Assessment
The move to independent end-point assessment from the continuous assessment model we currently have will help drive quality and success rates. By having a holistic assessment at the end of the programme apprentices are assessed after they have gained the maximum knowledge, skills, and experience possible. It also gives more control and flexibility to providers and employers in the design and structure of their training.
Engineering Apprentices Bridging the Skills Gap
If you've decided that an engineering apprenticeship is right for you, we recommend contacting us directly to find out how we support future engineers like yourself. Additionally, you may wish to consult our articles to learn which manufacturing apprenticeship suits you and what skills you need to work in manufacturing.
Engineering is a fantastic career choice. There are numerous reasons why you should consider a career in this field, from the enviable salaries to the amazing prospects and opportunities available to you in this industry.
To get you inspired, here we've put together a handy infographic on what engineering could do for you!