Stock springs may work for some standard applications, but there is a high likelihood that they may not meet your specific needs and may compromise their performance. Bespoke custom springs are the best option to ensure your springs are tailored to meet your application's specific needs and guarantee that your machinery or equipment will function optimally for a long time. Read on to discover why our custom spring manufacturing is our most popular service.
Benefits of Choosing Custom Spring Designs
Custom spring design allows you to consider dimensions, materials, tolerance requirements, and operating environments. This level of customisation ensures that the spring operates effectively with the least stress, minimising wear, and tear, and extends the life of your machinery or equipment.
Whatever purpose you will be using the spring for, whether small springs for electronics or large flat springs for train carriage suspension systems, you need to ensure that it will operate to its optimum potential.
A Tailored Design Process
Designing springs for optimal performance is critical to the success of any industrial application. A custom spring manufacturer will tailor springs to your specifications, ensuring maximum performance and consistency.
The benefits of customising springs for specific requirements include increased productivity, reduced maintenance costs, extended lifespan, and improved safety. Our experienced and skilled teams at Airedale Springs utilise the latest design software, processes, and materials to provide bespoke solutions for your unique applications. We offer design assistance to help you find the ideal spring for your specific needs.
Project Time Saved
Using customised springs can save valuable time and resources overall. Off-the-shelf springs may not meet your precise requirements, causing delays in developing your product or equipment. Stock springs may result in frequent breakdowns and repairs, wasting time and resources. Whereas custom-made springs are designed with your application in mind and their lifespan is extended due to their precision. Custom springs are more reliable, reducing the chances of costly downtime and malfunctions. Custom springs are also more consistent, making it easier to install them correctly the first time around.
Better Results
A bespoke spring manufacturer like us offers a broad range of products to suit all commercial and industrial applications. Our expertise in wire form manufacturing various metal products enables us to manufacture and customise springs of varying configurations.
Our versatility in custom spring manufacturing allows us to design springs suitable for several industries, including aerospace, automotive, medical, and marine. Our range of spring products includes tension springs, compression springs, torsion springs, and more, all designed to fit any application.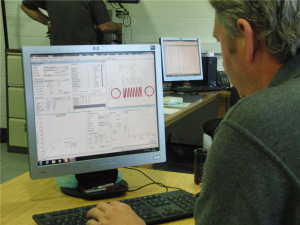 Case Study: SpiralGrip Limited
Take SpiralGrip, for example. Through close collaboration during the development process, we helped them bring their innovative desk edge cable holder to life. Discover how our custom spring design can benefit your application results.
"The guys at Airedale Springs couldn't have been more helpful in developing SpiralGrip. They worked with us on the design, sourced special material from the Far East and were very much part of the team taking the product to market. Their approach should be a lesson to all British manufacturing businesses."
Cliff Burgin, Managing Director of SpiralGrip Limited
This example demonstrates how an idea and spring design developed at the machine will vastly reduce the timescale from concept to launch. At Airedale, we offer this personalised service and help clients bring ideas to life and on the market.
How to Source Custom Spring Designs from Airedale Springs
Step 1: Initial Consultation
Our experienced engineers will actively work with you to discuss requirements and identify your needs for the customised spring design. During this consultation, we consider factors like operating environment, application requirements, standards, weight, stress levels, and expected lifespan.
Step 2: Material Selection
Once design requirements are set, our engineers determine the most suitable material for your springs, offering a wide range of options, including stainless steel, titanium, and brass, with different physical, mechanical, and chemical properties.
Step 3: Custom Design and Prototyping
After selecting the material, we create a tailored design using the latest software to optimise the springs for your application. We can also produce a prototype to ensure specifications and performance.
Step 4: Manufacturing the Custom Springs
With the custom design finalised, we manufacture the spring using CNCT machines for precise and fast production. Our large selection of machines allows us to meet most spring variations.
Step 5: Spring Assembly
We assist with additional assembly processes for integrating the springs into your application if necessary. Our expert team can handle various complexities and procure specialised materials.
Step 6: Quality Control
To guarantee performance, we subject all custom springs to comprehensive quality control. We conduct tests on physical properties and any applicable chemical or heat treatments.
Step 7: Delivery
After passing our quality control, we deliver the custom springs on time, adhering to your required specifications and quantity. Our spring design team follows up to ensure proper function and address concerns.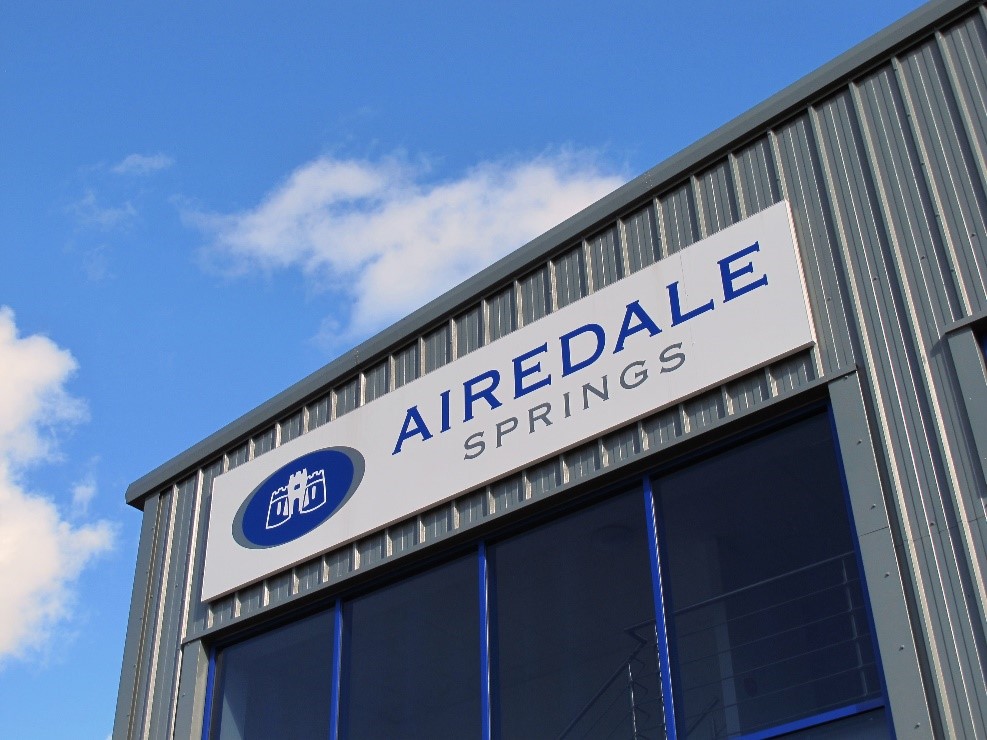 Airedale Springs: Custom UK Wire Form and Spring Manufacturer
At Airedale Springs, we have over 70 years of experience as a custom spring manufacturer. We have consistently been a UK market leader in designing and manufacturing speciality custom-made springs and bespoke wire forms for various industries and applications. Our staff's continued high-quality training and persistent search for new, modern solutions, processes and materials will ensure that you, as a valued customer, get the best in spring hardware for your application.
We also have an exceptionally reliable network of suppliers who assist us when we need to source materials for the manufacture and finish of our products. Whatever your needs, with our team helping to design, manufacture and finish your chosen product, you can be assured of quality and perfection.
If you need assistance choosing the spring you require, or you already have a design in mind, contact us, and we will help you choose the best service for your needs.