Wire forming is key to what we do here at Airedale Springs, and we're proud to have a large knowledgeable team capable of creating a huge range of products.
In order to manufacture the exact designs required by our clients – which we make sure meet their industry requirements – we use only the latest equipment. Our 17 cutting-edge CNC machines allow us to manipulate the wire to get the desired shape, and we're able to create products from wire as fine as 0.15mm.
Below, we're taking a more detailed look at CNC wire forming and the importance of investing in high-quality equipment.
What is CNC Wire Forming?
This process refers to the forming or bending of a piece of wire from a spooled coil or length.
The wire is manipulated until it achieves the required shape, which can be done manually (by bending the wire around shapes) or, of course, automatically, by feeding the wire to a machine that creates the desired shapes.
As spring manufacturers, Airedale Springs use the best machines to achieve results that are consistent and precise at all times.
There are near endless possibilities when it comes to how the wire can be shaped, and one of the most popular applications is springs. We're able to manufacture a wide range of springs at our facilities, from compression springs to tension springs and everything else in-between, including custom designs.
This is due to the fact that the wire can be bent in every direction, cut as needed, coiled and angled to create specific shapes.
How Do CNC Machines Work?
Once the materials, dimensions and shapes have been agreed on, the information is input into the wire forming machines. This means that each bend and twist is already preprogramed into the machines, which can create the same spring or wire form up to thousands of times an hour (allowing for a quick turnaround; at times, within a few days of order).

The wire is uncoiled from a spool and run through a series of wheels designed to straighten it before the manipulation process can start. Then, several dies and pins shape the wire until the resulting part is completed and snipped off with a blade, as seen in the example below:

Different machines accomplish different results, so it's crucial that you choose the right spring manufacturers for your project, as they'll need the right type of machinery to fulfil your order.
Our CNC Machines
Airedale Springs have been in business for 75 years and, during that time, we've always prioritised quality and customer excellence – this includes adding the best equipment to our facilities so that we can keep delivering great results to our clients.
Our wide range of modern CNC coiling and wire forming machines is manufactured by world-class brands like Wafios, HTC, DKPM and Adtech. Our expert team is trained to operate and maintain the machines in top condition, and they also know how to make the most of each machine to improve consistency and quality.
You can find an extensive list of the CNC machinery we use at Airedale Springs on our website. These machines are able to produce as simple or complex shapes as needed – and in many different sizes – so we can easily meet the exact specifications of our clients.
For example, our Wafios F3, a CNC coiler machines, is not only highly reliable and easy to operate, but it's also capable of creating springs with a wire diameter that ranges from 0.7 to 3mm.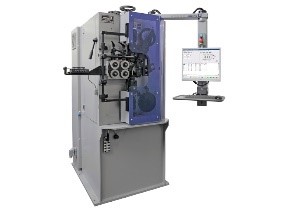 Each of our machines serves a purpose, so that we can manufacture a massive range of dimensions and shapes.
Why High-Quality Equipment is Important
Creating quality springs and wire forms depends on several factors, such as the skill and knowledge of the manufacturers, the quality of the materials and, of course, the actual machinery used.
Our high-quality equipment allows us to keep up with demand, not just in terms of order volume, but also in regard to industry-specific requirements. This is because our modern machines enable us to use the latest software to design and manufacture complex shapes capable of meeting even the strictest specifications.
With the best machinery in the market, we're capable of providing clients with:
Repeatable accuracy on even the most complex of shapes
Quick and reliable deliveries
Different production run sizes
Cost-efficiency
Springs and wire forms manufactured to exact standards
Ability to use several different materials, from steel to copper
Different spring sizes and dimensions
Full traceability
When looking for a spring manufacturer, make sure they are able to give you exactly what you're looking for. The large number of CNC wire forming machines at Airedale Springs helps us to deliver the best results, so get in touch with us today on 01535 643456 to discuss your project with us and see how we can help.