Wire forms have always been very important, yet rather unglamorous components that are used in a great many industries, but did you ever stop to wonder exactly how these forms are created? Well, there's obviously no one answer to that question, but here at Airedale Springs we rely heavily upon the FMK2 machine to fashion our wire forms, and it's our belief that it's one of the best options out there.
How We Discovered the FMK2
We first saw the FMK2 in Dusseldorf at the international wire exhibition in 2008. Initially, we had some concerns relating to its design; chiefly because it was so alien to anything that we'd previously come across, and its external design was very different too. Because we'd lost all of our manufacturing equipment in August 2010 to fire damages, we were offered the loan of an FMK2 by Wafios. Through adversity and not by choice, we therefore ended up using the FMK2 as our staple machine, yet we soon discovered just how beneficial this happy chance was!
A number of slight design alterations had been carried out to the FMK2 in the two years since we'd last seen it, and these adjustments now made it ideal for our typical type of jobbing work. As soon as we realised this, we purchased the FMK2 in May 2012 as part of an investment programme that also included 8 other CNC machines. All told, this initial investment cost over £1.5 million, so it's fair to say that it was no small step to take.
Why is the FMK2 So Special?
The FMK2 is a revolutionary machine because of the way that it presents the forming and cutting tools to the wire. The FMK2 covers the working range from 0.6 to 2.0mm, and comes with six axes as standard issue, but it can also be upgraded to a maximum of eight axes. If required, the equipment variants permit seven CNC axes with a total of two rotary units, eight CNC axes with three rotary units, or eight CNC axes with two rotary units plus one indexing mandrel, so it brings a lot of adaptability to the table.
In terms of axes, two are reserved for the wire feed, one is intended for rotatable wire guidance, and the remaining two control the most interesting part of the machine, which is the compound table that is dictated by two of its 6 axis. This helps to keep set ups simple without a major loss of flexibility.
The FMK2 is also advanced in terms of software, as it incorporates the latest version of the WPS 3.1 control package, and also laser measurement. Additionally, it includes a computer programme which allows the simulation of a set-up and production sequence. This can be used to optimize the best tooling layout, as well as demonstrating the production sequence to customers by video (see the video section on our web site).
What the FMK2 Brings to Airedale Springs
The Wafios FMK2 has a wire range of 0.6mm – 2.0mm. Using its unique Cartesian compound table controlled by two CNC axis helps to keep setups simple without the loss of flexibility. It incorporates the latest version of the WPS 3.1 control software and laser measurement.
We are delighted to be able to offer our customers increased flexibility and shorter lead times as a result of this further investment.
The simulation software of the FMK2 has proved to be very beneficial to us, and because of this it has been used for training purposes as well. These machines are incredibly versatile, and this unique technology allows us to manufacture many compression springs, tension springs, torsion springs and wire forms for you to make use of.
Here at Airedale, The Wafios FMU 2.7 with a wire range of 0.8 to 2.5mm and the Wafios FMU16 wire range 0.4 to 1.6mm complement our existing equipment and provide greater flexibility to our customers.
The FMU16 is the very latest design of this range of equipment and keeps Airedale Springs at the forefront of wire-forming technology.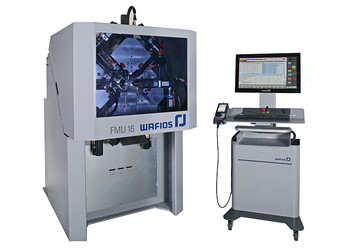 If you'd like to find out more about our products, then contact us now by calling 01535 643456 or sending an email to sales@www.airedalesprings.co.uk.