The importance of sustainable manufacturing has become more apparent in recent years as the nation gets closer to an important date, NetZero 2050. To fulfil the goal of this national strategy, each business is working toward creating more sustainable alternatives to its current operations.
As a result, businesses are making changes to their production processes to help reduce their environmental impact while still being able to meet the demands of their customers.
This blog will explore how sustainability is implemented within the manufacturing industry. It will discuss a range of elements, from green working processes, lean material use and renewable energy sourcing.
The UK's Sustainability Challenge
The UK currently faces a major sustainability challenge. With the number of businesses growing, the demand for energy and resources is increasing to meet supply and demand. The unfortunate side effect is that without NetZero initiatives, there is an increasingly harmful effect on the environment.
Manufacturers must take responsibility by implementing sustainable practices and technologies to reduce their environmental impact. This includes everything from reducing energy and material waste to investing in renewable energy sources. In addition, manufacturers must ensure their products and processes are as efficient and effective as possible while meeting customer needs. UK manufacturers can help create a more sustainable future by taking these steps.
This challenge is one of the main reasons Airedale Springs increased investment in solar panels, upgrading our existing 132 to 400 panels that provide 80% of our power needs. We are passionate about sustainable manufacturing and want to be at the forefront of change.
How Manufacturers Do Their Part
Learning Green Skills
Green skills are the skills and knowledge required for sustainable production and consumption. These skills are becoming increasingly important in manufacturing as businesses strive to create a more sustainable future.
Green skills can be used to reduce emissions and waste and increase the efficiency of processes. For example, green skills can be used to improve energy efficiency, reduce water consumption, and develop eco-friendly production techniques.
By implementing green skills into their operations, businesses can reduce their environmental impact and create a greener world for future generations.
Utilising Recycled Materials
Recycled materials are materials derived from waste products used in the manufacturing industry to reduce the amount of energy and resources used in production. This helps to reduce the carbon footprint of the manufacturing process and also has the potential to reduce costs significantly.
Recycled materials can be used in various ways, such as substituting for virgin materials, producing new materials, and even creating entirely new products. For example, recycled metal can create new small springs for electronics or wire forms with a far smaller effect on the environment without sacrificing quality.
Implementing Lean Materials Processes
Lean material processes are an important part of sustainable manufacturing, as they help to reduce waste and increase efficiency. Lean material processes involve designing and managing production systems to eliminate waste, reduce cost, and increase productivity.
By implementing lean material processes, manufacturers can reduce their energy consumption, improve their profitability, and reduce their environmental impact. This can be achieved through various techniques, such as reducing the number of components used in a product, streamlining production processes, and reducing stock levels. To accomplish this at Airedale Springs, we have lowered our carbon footprint but using only metal that is 100% recyclable for all our springs, wire forms and pressings. Additionally, we have developed award-winning, eco-friendly facilities such as our new factory, built from the ground up to be more environmentally friendly.
Developing Renewable Onsite Energy Production
Renewable, onsite energy production is an integral part of the manufacturing industry's shift towards sustainability. Onsite energy production refers to energy generation on the business's premise, usually through renewable sources such as solar and wind.
By investing in energy onsite, companies can reduce their dependence on external energy sources and their carbon footprint. Additionally, any infrastructure concerns, such as rolling blackouts, are avoided as the facility manager will be aware of the energy generated onsite through renewable means.
Onsite energy production can be used in the manufacturing industry in various ways, from powering machines and equipment to providing for your facilities essentials such as lighting, heating and ventilation.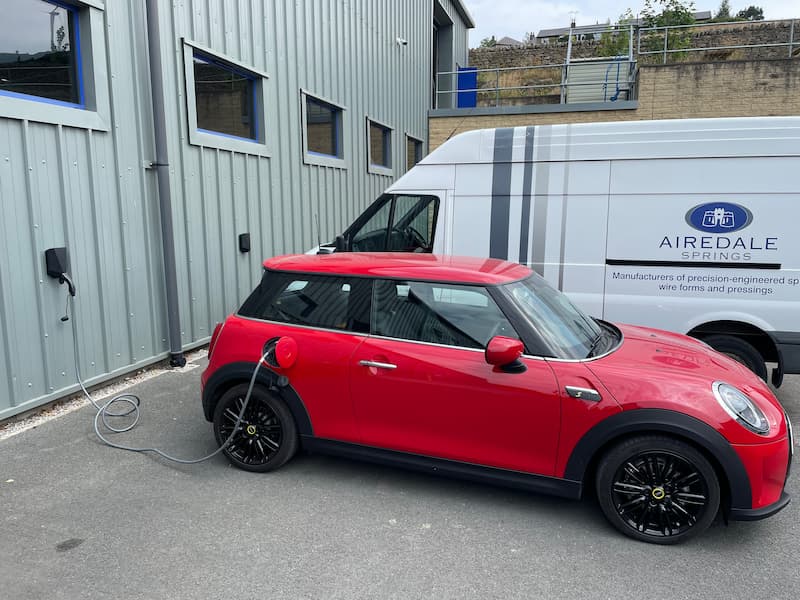 Sustainable Manufacturing at Airedale Springs
Sustainable manufacturing is becoming increasingly important in our modern world. Businesses can create a greener world and promote a healthier, more resilient economy by reducing environmental costs and improving efficiencies. By implementing sustainable practices, our teams at Airedale Springs reduce our environmental impact, increase our competitiveness and profitability, and contribute to a healthier and more sustainable future.
As sustainable spring manufacturers, we are passionate about sustainability and have shown this through our many sustainable programs, including our recent EV charging investment and our growing collection of solar panels that now provides 80% of our power needs for our facility. Contact us to discover the range of sustainably manufactured custom springs your applications can use and increase your business's sustainability.