Airedale Springs work with a wide range of industries and sectors, providing springs and wireforms to many businesses and companies. One of those is Brompton.
The brand's history dates back to 1975, when its inventor and founder, Andrew Ritchie, created prototypes of Brompton bicycles from his bedroom. Nowadays, these bikes are hand brazed at Brompton's factory in London, which means each of them is unique. Brompton bicycles can be folded or unfolded in under 20 seconds and, when folded, they're locked together in a compact package, which can be carried or stored anywhere.
We've been wireform and spring manufacturers for Brompton bikes since 1987; each bicycle uses 14 of our components in the gears, frame, folding mechanism and control cables.
Amid the COVID-19 pandemic, Brompton have launched the Wheels for Heroes campaign, which strives to get more than 1,000 bikes hired for free for healthcare personnel in the country. They believe that supporting NHS front line workers is important, and we couldn't agree more here at Airedale Springs. We believe this is a fantastic initiative and we're proud to work with such an innovative company.
Take a look below at Brompton's Wheels for Heroes campaign and how you can help.
---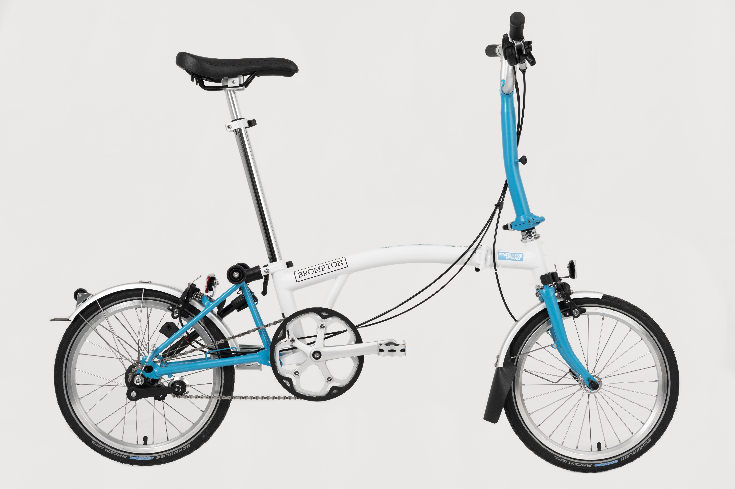 Brompton Bike Hire Launches Wheels for Heroes Campaign
Brompton Bike Hire has launched a crowdfunding campaign which aims to get over 1,000 Brompton bikes hired for free to healthcare workers in the UK, during the COVID-19 pandemic. 2 weeks ago, Brompton Bike Hire approached St Barts Hospital and NHS London to provide bikes for their front-line staff who wished to avoid being crammed onto buses and trains during the Coronavirus crisis.
To date, over 500 NHS staff have registered for the free rental of a Brompton Bike – and we want to do more, but simply don't have enough bikes available in our hire fleet.
As Brompton and Brompton Bike Hire have been allowed to continue operating during the lockdown period and cycling has been deemed 'essential' by the UK Government, we are fortunate that we are able to still run our business, albeit with many new measures in place and facing new challenges every day.
We want to use this opportunity to do what we can to help those in need. Although demand from our customers around the world remains strong and production capacity is much lower than normal, we are determined to do our bit by allocating some of our manufacturing capacity towards building more bikes for NHS staff.
Assuming we can still maintain our current levels of production, we will aim to build up to an additional 1,000 bikes dedicated for the NHS to use for free during COVID-19. Brompton Bike Hire plan for this to have a lasting impact beyond the current crisis. These bikes will always be allocated towards the health service and will continue to be used by the NHS for a nominal maintenance fee (£1 per hire) after the lockdown restrictions are lifted. Some of the fleet will also be donated to hospitals to use for graduate doctors and nurses.
Production of these bikes will be spread over the coming weeks, building approximately 100 bikes per week. However, we can't fund the full cost of the bikes ourselves and so we are calling on the Brompton and wider community to get involved with the project where they can. Any support from our partners, customers and suppliers, no matter how small will make a huge difference to us being able to support the NHS.  We are living in an uncertain time and no one can predict exactly how this all pans out, but we are determined to do our bit to support our amazing NHS staff the best way we can – with bikes!
The crowdfunding page www.crowdfunder.co.uk/wheelsforheroes is now live. Please show us your support by sharing our posts on Facebook, Instagram and Twitter. At the time of writing, the campaign has been rolling along at incredible pace with over 879 contributors raising £96,000 towards these bikes!
So far, we have gained PR coverage in publications such as Chris Evans' Virgin Radio, Forbes, and The Guardian newspaper.
We're also working hard to launch a campaign which will allow every Brompton or even every bicycle owner in the UK to be part of this effort, a safe method for them to lend their bike to a local key worker, more information coming soon.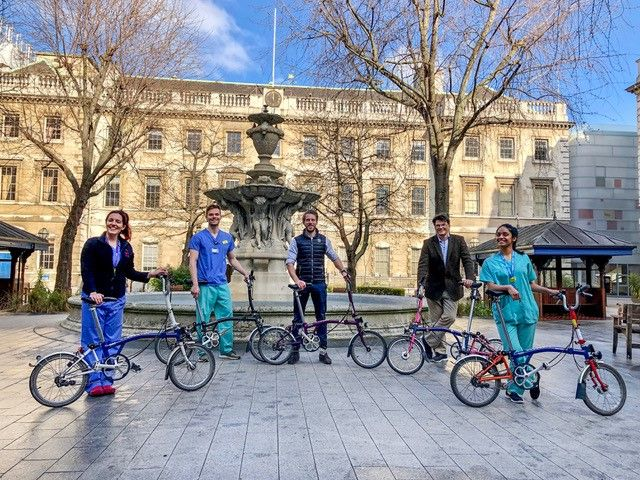 Good News in These Tough Times
We stand alongside our industry in believing that cycling is an important resilience to COVID-19 – both in offering a practical solution for getting around avoiding the risks of mass transport, but also equally importantly to help maintain the physical and mental wellbeing of people.
There are many inspiring stories coming out of this crisis around the globe. Our Brompton China team, based in Shanghai, recently supported a hospital that was looking for donations. The Doctor that approached our team was based in a hotel in West China and was an existing Brompton owner.
The hospital was desperately looking to raise funds to purchase more PPE equipment for their team. Our China team was able to arrange an online auction of a coveted '20 years in Asia' Gold Brompton, model number 888. This auction raised 40,000RMB for the hospital workers.
Stay safe everyone.