Airedale Springs is proud to announce key changes to further strengthen its Board of Directors.
Sue Brook, who joined the Company in 2011 as Business Development Manager to project manage the move into the new factory, has been promoted to Commercial Director and Sean Parkinson, who has been a Director of the Company for over 15 years, takes the role of Managing Director. Sue brings a wealth of management experience from both the construction and manufacturing sectors and will continue to develop the commercial activities of the company.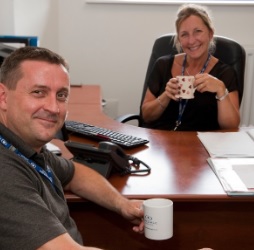 From Left: Sean Parkinson, Managing Director & Sue Brook, Commercial Director
Airedale Springs Chairman, Tim Parkinson said: "Sue played a central role in the planning of our new factory putting her many years of experience in the construction industry to good use and ensured we received our new factory to specification and on time.She is held in high regard by colleagues and customers alike and her new responsibilities as Commercial Director are integral to the ongoing success of the business. I am confident that Sue will continue to be a great asset as we look to develop our commercial activities going forward."
Tim Parkinson said: "Airedale Springs has always been good at planning for the future and as the average age of our production team has reduced in recent years, it is only right that the board of directors reflects this change. Sean, who has held the position of Commercial Director for 5 years, has been appointed Managing Director to reflect his wider responsibilities. Sean is more than capable of taking this important step in leading the next generation of family and friends to continued business success.
Working with family and friends can often be regarded as a mistake however in my experience, it is a privilege – it engenders a common purpose, a potent force for business success and I am confident that these recent changes will only further strengthen our business for the future."