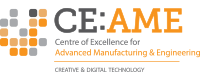 Airedale Springs is proud to be a supporter of the CE:AMIE Industrial Centre of Excellence (ICE) for Advanced Manufacturing & Engineering.
The ICE has been created to ensure that students can gain the skills and experience necessary for a successful career in engineering and manufacturing.
Developed in partnership with Bradford Council, Leeds City College and Oakbank School  Keighley, the ICE brings together local schools and employers to support young people wishing to enter a career in the engineering and manufacturing sectors. The centre is managed by a board of employers who ensure that the curriculum is relevant and that it prepares students appropriately for the world of work. The ICE aims to make all project work industry based, and as real as possible, by working closely with the board. In addition, all students attending the ICE are offered work placement opportunities with local employers. Tim Parkinson is a member of the ICE board and said: –
"The town of Keighley has had a long and famous engineering history, sadly over the last decade FE provision has been lacking. With the recent resurgence of manufacturing and engineering in the UK the launch of the ICE once again provides the town with a local base for advanced engineering training. The ICE will provide a resource for local engineering companies and their apprentices to develop their skills required for the future. Airedale Springs is delighted to be closely involved with the ICE and fully support its objectives."
The ICE was officially opened on the 22nd January. See www.keighleyice.org for details.