Here at Airedale Springs, we have four talented apprentices who continue to grow their skills every day through designing and manufacturing high-quality wire forms using our CNC machines.
Just last year, we set them the challenge of designing a festive wire form, and our Alfie stepped up to the challenge by producing a Christmas Tree that balanced both innovation and creativity.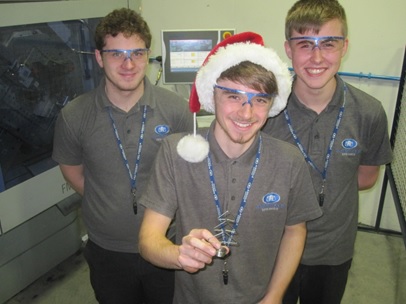 Alfie, in the middle, holding his winning festive design!
And just in time for Easter, we yet again set another eggs-cellent competition to our apprentices: creating an Easter-themed wire form.
In the midst of incredibly creative designs, such as wire form spring flowers and other egg-ceptional designs, our apprentice Sam Vickers invented a functional Easter Bunny card holder.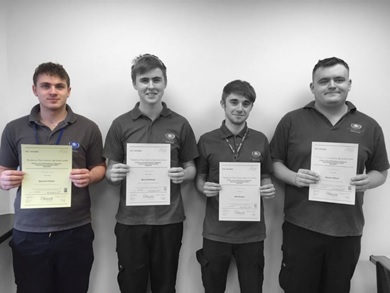 Our apprentice, Sam Vickers, winner of the Easter challenge!
The wire forms of this Easter Bunny are currently receiving a white coat before hopping along towards a lucky few, in time for the Easter weekend. Why don't you have a sneak peek here?
Will the Easter Bunny make his way towards you? Find out before the Easter weekend if he chose you!
Meanwhile, here at Airedale Springs we want to wish you a very happy Easter!