Springs are essential for a huge range of applications, from medical instruments to aerospace. In many of these cases, a bespoke design is necessary and custom spring manufacturer is essential.
The Design
Whatever purpose you are going to be using the spring for, whether it be in a watch or as part of the suspension on a train, you need to make sure that it will operate to its optimum potential. It could be like putting a ball through a square hole, you don't want it to be forced and awkward, you want it to be smooth and precise. With design assistance to help you perfect what you need and an experienced and skilled team to manufacture it to the specifications that you desire.
Time on Your Hands?
Taking that little bit of time to design the spring that you need can save you a lot of time in the long run. Not only will it be the perfect fit for your needs it will take out the potential problem of trial and error.
If you buy a stock spring that has been generically manufactured, you cannot be sure that it will fit correctly and optimise performance. You may spend days or weeks trying slightly different sizes to perfect your product only for them to still not be ideal. With a custom-made spring you know that from the first time you use it, it will work and fit exactly how you want it to.
The Finished Design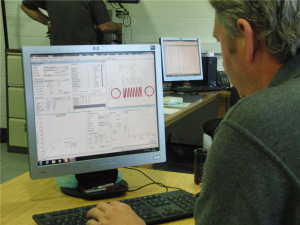 Once you have designed and had the spring you require manufactured it will be time to use it in your product or application. The beauty of using a custom spring manufacturer is that they don't just deal with springs. We are experts in metalworking, design and manufacturing a variety of metal products such as special wire forms. So even if you need something different like light fittings, baggage clips or telecommunications equipment, we can help produce the perfect part for you.
Why Airedale Springs?
Here at Airedale Springs we have over 70 years' experience and have consistently been a market leader in the design and manufacturing of speciality custom made springs and wire forms for a plethora of different industries and capabilities.
The continued high-quality training of our staff, and our persistent search for new, modern solutions, processes and materials, will ensure that you, as a valued customer, get the very best in spring hardware for your application.
Our very reliable network of suppliers assists us when we need to source materials for the manufacture and finish of our products. Whatever your needs, with our team helping to design, manufacture and finish your chosen product, you can be assured of quality and perfection.
If you need assistance with choosing the spring you require, or you already have a design in mind, contact us and we will help you to choose the best service for your needs. Simply call us on 01535 643456 or send an email to sales@airedalesprings.co.uk and we will be in touch.