Airedale Springs are among the Innovators in the field of CCTV
Airedale Springs are utilising state of the art security technology to monitor their premises and operations.
The Company called in Keybury Fire and Security to install their innovative CCTV and access control systems. Keybury's Operations Director Patrick Beebe commented "Airedale Springs is right up there with the pioneers who have embraced the very latest security systems and technology – they certainly are among the innovators in this specialist field."
This modern day technology means managers can now maintain 24 hour surveillance on both their premises and unmanned machine performance via laptops and smartphones.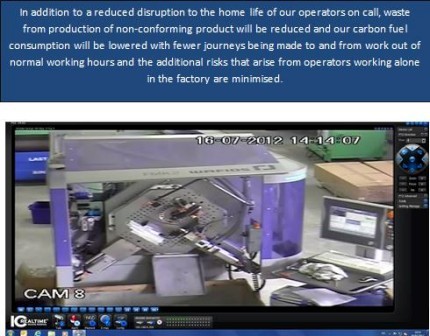 Above is a screen shot of a CCTV image of one of our machines in operation – allowing the operator to remotely view the performance of the machine from his mobile phone.
Each camera can be remotely controlled through 360 degrees and has a 22:1 optical zoom allowing full viewing of each CNC machine in our production facility.

An Open Invitation
We are delighted with our new premises and plan to hold a series of open days over the coming months to which you will be formally invited, however we continue to offer an open invitation for you to visit us at any time.
If you would like to arrange a visit please contact our Commercial Director, Sean Parkinson – Contact Tel: 01535 643456 Email: parkinsons@www.airedalesprings.co.uk
If you are looking for wire forms, compression springs, tension springs or closed coiled garter springs, don't hesitate to get in touch with us by sending an enquiry direct to our sales team at sales@www.airedalesprings.co.uk or call them on Tel : 01535 643456