Airedale Springs recycle EVERY recyclable waste stream thanks to the commitment of our employees and the services of Aire Valley Recycling in Bradford
We recognise that many of our clients place a high level of importance on the environmental credentials of their suppliers and are fully committed to operating an environmental management system that meets the standard of ISO14001 and that demonstrates our culture of continuous improvement in everything we do.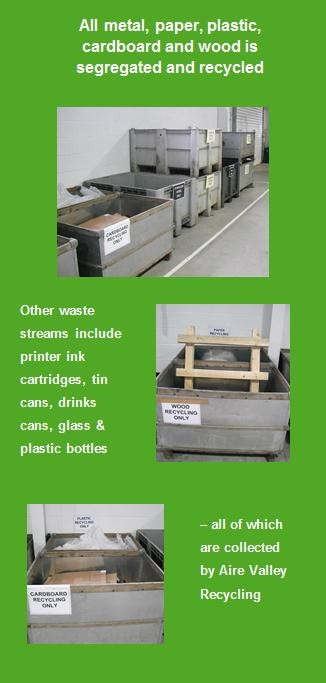 Airedale Springs have been shortlisted for the 'Environmental Friendly Business Award' by Keighley Business Awards and look forward to updating our readers on the results soon.
An Open Invitation
Our next Open Day for friends and family is on Saturday 13th April from 9.30am to 2pm. All are welcome.
As always – we would be delighted to welcome you to our new premises here Haworth. If you would like to arrange a visit please contact our Commercial Director, Sean Parkinson – Contact Tel: 01535 643456 Email: parkinsons@www.airedalesprings.co.uk
Wishing you a very Happy Easter break
Our offices will be closed on Friday 29th March and Monday 1st April 2013.
If you have business for wire forms, compression springs, tension springs or closed coiled garter springs then please send your enquiry direct to our sales team at sales@www.airedalesprings.co.uk or call them on Tel : 01535 643456