When we took the call from a designer wanting to discuss his idea for a desk edge cable holder, our team were raring to go.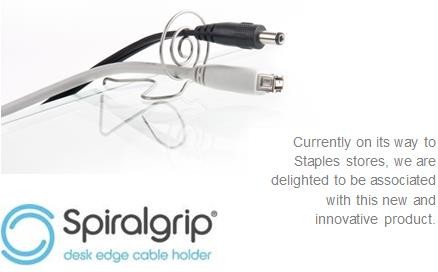 Cliff Burgin, Managing Director of SpiralGrip Limited says,
"The guys at Airedale Springs could not have been more helpful in the development stages of SpiralGrip. They worked with us on the design, sourced special material from the Far East and are very much part of the team taking the product to market…
…We tried to engage with another spring manufacturer previously only to find they could not be bothered and did not take us seriously.
Airedale have worked hard for our business and deserve their share of the rewards, now the product is going into retailers. Their approach should be a lesson to all British manufacturing businesses."

Spiralgrip is patent pending

Our first customer survey went out earlier in the month and we had a great response – the feedback is really useful and we are working hard to develop our systems to continuously improve the service we offer to our clients.
Congratulations to the winner of the Ipad mini!
An Open Invitation
We would be delighted to welcome you to our premises here in Haworth. If you would like to arrange a visit please contact our Commercial Director, Sean Parkinson – Contact Tel: 01535 643456 Email: parkinsons@www.airedalesprings.co.uk
Always here to help
If you have business for wire forms, compression springs, tension springs or closed coiled garter springs then please send your enquiry direct to our sales team at sales@www.airedalesprings.co.uk or call them on Tel : 01535 643456