With a new design well under way it won't be long before the new look of Airedale Springs website launches onto the net.

Airedale Springs Business Development Manager Sue Brook says, "It'll be modern, fresh and easy to use. With video clips and images of our factory, machines and team, you'll be able to see exactly what Airedale Springs is all about."
The new site is due to be launched later in the summer.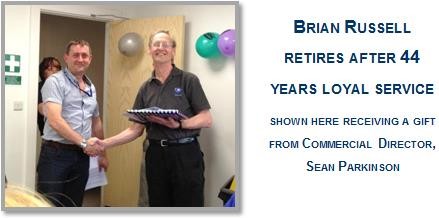 Chairman of Airedale Springs, Tim Parkinson says, "Brian is a unique character, he trained the majority of our current staff and those who've gone to work over the years in other companies within the area. Brian retired after 44 years of dedicated service but will certainly never stop being part of the family."

By working hands on at the machine with our skilled operators, one major Lighting industry client has been able to dramatically reduce the development time of a new component from potentially weeks to a matter of hours.
Airedale Springs Commercial Director, Sean Parkinson says, "This component is a perfect example of the efficiencies we can achieve when our clients visit us, a customer can leave our facilities with a completed product after a very short time on site – our client was delighted with the service we were able to offer".
We would be delighted to welcome you to our premises here in Haworth. If you would like to arrange a visit please contact our Commercial Director, Sean Parkinson – Contact Tel: 01535 643456 Email: parkinsons@www.airedalesprings.co.uk

On Tuesday 16th July 30 members from one of the largest rural youth organisations in the UK, the Young Farmers paid Airedale Springs a visit. Young Farmers focus on giving their 25,000 members aged 10 to 26, a unique opportunity to work in the local community as well as develop skills and gain an interest in agriculture and the countryside. The evening was a great success and the young people went away with a far better understanding of production of springs and wire forms and the skills and dedication of the Airedale team.
Always here to help
If you have business for wire forms, compression springs, tension springs, flat springs or closed coiled garter springs, then please send your enquiry direct to our sales team at sales@www.airedalesprings.co.uk or call them on Tel: 01535 643456
This month's newsletter was produced by our work experience student, Megan Parkinson – well done and thanks Megan!