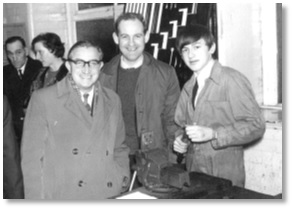 When Brian Cooper started work as a labourer at Airedale Springs on the 6th March 1967 at the tender age of 15, he probably didn't give a thought as what he might be doing 50 years later.
His family, on his mothers side, were from the Oxenhope area although Brian was born in Inverness. He moved back to the area when he was 14 and applied for several jobs in the Keighley area. His father persuaded him to accept the one from Airedale Springs having a factory in Oxenhope, so he could walk to work.
He must have made an impression as he soon started an apprenticeship and qualified as a flat spring maker. He has worked in various departments over the years becoming a charge hand in the "Bench Department" when the Company moved to Ebor Mills. He then moved to the engineering and maintenance department providing tools and services to his colleges utilizing the many years of experience built up over the years.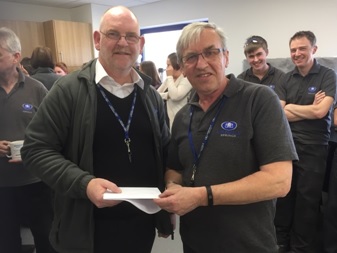 Brian is popular and a well-respected member of the team, a skilled spring maker and maintenance engineer.
Although he doesn't look it, Brian is the Grandfather figure of the team, bearing in mind that over half of our employees weren't even born when Brian commenced his employment. In celebration of this unique and momentous occasion all his colleagues gathered together to have a party during which Brian was presented with a gift, a full years subscription to a local golf club. Brian now works 3 days a week so he needed to find something to do on his days off.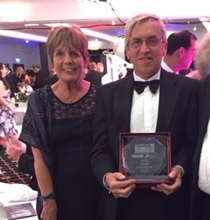 Picture left shows Brian with his wife Maureen receiving the "Bradford Means Business Award" for Employer of the Year 2016.
Brian nominated the Company for the award and was invited to the ceremony to collect it. This award was due recognition for his efforts as it was for the Company.
Brian continues in employment for a few years yet and we all congratulate him on this magnificent achievement, the likes of which we may never see again.