Springs are all around us. No matter where you are or the object you're using, it's likely you're surrounded by springs. On your mobile phone? Doing laundry? Changing the channel on your remote control? Springs and wire forms are key components in electrical items, and, without them, we wouldn't be able to have the technology we have today.
In this article, we explore the subject of electronics springs within the sector, including where you can find them.
What Springs are Commonly Used in Electronics?
The most common types of springs used in the electronics sector are compression springs, strip wire and wire forms.
However, this will depend on the design of the spring, its material, its purpose, its size, and so much more. There is no 'one-size-fits-all' when it comes to springs, be it in the electronics sector or any other industry.
What does this mean? While compression springs are likely used as battery holders or in contact buttons, for instance, it doesn't mean this is the only type of electronics spring used in these applications. In addition, it doesn't mean compression springs can't be used elsewhere either.
So, while we can commonly find these types of springs and wire forms in the sector, many other springs make up electrical objects as well, including torsion and extension.
At Airedale Springs, we will always work with you to create the best springs and wire forms for your project. Each project is unique and comes with its own requirements and demands, and we endeavour to meet your exact needs no matter what. Before producing your spring, we use the latest computer software to help design it and make use of the innovative simulation software on our state-of-the-art CNC machines.
That way, you always receive the right product for your project.
Popular Uses of Springs in the Electronics Sector
In the electronics sector, springs, strip wire and wire forms are used for a wide range of applications.
Every time you open the door of a household appliance, be it your fridge or washing machine, a spring is working; it creates resistance and ensures the door is open and closed when needed. Your outdoor power equipment, such as your lawnmower, needs springs to operate as well – these springs have to be durable and strong, in order to safely allow the machine to perform its job.
There are small springs for electronics too, the small motor that allows a smartphone to vibrate requires a spring to function, and so do circuit breakers that protect your electrical board and emergency switches.
At Airedale Springs, we have also produced many springs, strip wire or wire forms for the electronics sector. We focus on creating only the highest quality products by using the best materials and the latest equipment – a promise we deliver to all our customers. For instance, we've created products for sensors, such as those in the medical field, as well as gas and carbon monoxide sensors. These important objects require springs to function, which need to be high quality in order to ensure their safety.
Wire forms can vary in size and our CNC machines are capable of creating products as small as you need them to be, while still strong enough to withstand the demands of your project. In electronics, these wire forms are great for electrical contacts to ensure that the connection is established between two or more systems; they can ensure a battery is kept in place, for example, so they've been helping engineers for a long time.
Round wire or strip wire are often used in electrical items as well, although it will depend on the amount of pressure required – other springs may be better suited, depending on what you need.
Things to Consider When Choosing Springs for Electronics
There are several things to keep in mind when creating springs for the electronics sector – again, each case is different, so the electronics springs or wire forms needed for your project will likely vary from someone else's.
The size of the springs is one of the most important factors. With technological developments came smaller electronic devices, so it's crucial that you can find small springs for electronics to reflect that. The Slinky may be the most famous spring, but a product that big wouldn't work for a computer, mobile phone or even domestic appliance. This is why we use many different CNC machines at Airedale Springs – they allow us to create springs and wire forms in very small sizes (for instance, with a wire diameter of 0.15mm), which is perfect for this sector.
At the same time, even though they need to be small, springs also have to be strong and made from the right materials. Electronics springs need to be cost-effective as well; after all, the cost of manufacturing a product has to include a number of parts, not just springs, so it's crucial they're not too expensive in order for you to be able to justify the whole project.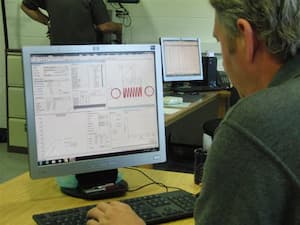 As compression spring manufacturers, Airedale Springs have many years of experience delivering the best springs to clients in a variety of industries. Our clients include SpiralGrip, as we helped them to achieve their vision of creating an innovative desk edge cable holder. We've also supplied springs and wire forms to the Brompton Bicycle since 1987; we produce 14 components that are used in the gears, the frame, the folding mechanism and for retaining the control cables.
We will help you to accomplish your vision as well – just get in touch with the Airedale Springs team on 01535 643456 and we'll be more than happy to discuss your specific requirements.