The National Vocational Qualifications are comprehensive qualifications that include all aspects of the specific occupation and don't need to be completed in a set period of time. Needing knowledge and experience in the area, a Level 2 NVQ is only awarded after a lot of hard work.
This is something that four of our apprentices know all about! Sam, Max, Alfie, and Declan have worked extra hard for the past 18 months in order to complete their Intermediate Apprenticeship Level qualification.
Showcasing both their high level of expertise and how much they have worked towards their qualification, everyone here at Airedale Springs are extremely proud that all four of our apprentices have completed the 'Improving Operation Performance' (Business Improvement Techniques) in Science, Engineering, and Manufacturing Technologies an NVQ Level 2 Diploma.
Airedale Springs Chairman, Tim Parkinson, said "Investment in people and the investment in equipment go hand in hand. These four young men have demonstrated their commitment to the Company by putting into practice the skills and techniques they have learnt to become valued members of our team. Airedale Springs is working closely with Keighley College in developing a training programme to build upon this first step in their engineering career." 
We have seen them grow and develop their skills on a daily basis, and we're sure they have a bright future in the industry!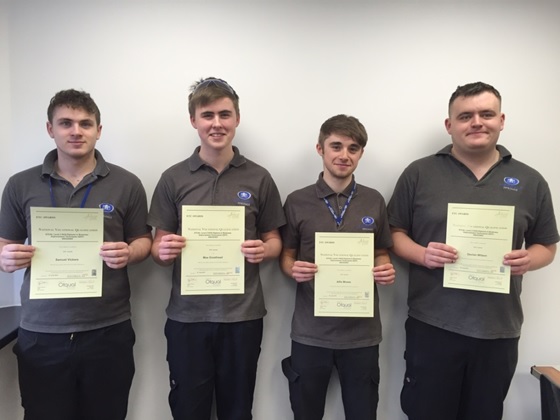 (L-R) Sam Vickers, Max Greathead, Alfie Mosses, and Declan Wilson, proudly show their certificates.