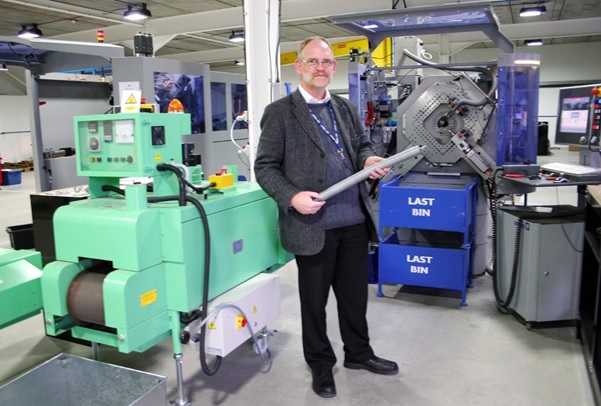 Tim Parkinson, Chairman Airedale Springs
Local manufacturing boss Tim Parkinson is backing a new West Yorkshire school which focuses on the sector – and has called for more to be done to encourage young people into engineering.
Mr Parkinson, chairman of family-run Airedale Springs in Haworth, has urged youngsters to consider careers in manufacturing and engineering in order to safeguard the future of the sector in the region.
His call follows a recent report showing that 84 per cent of manufacturers believe not enough is being done to make manufacturing an attractive career choice.
Airedale Springs is partnering with a new kind of school for 14 to 18 year old's set to open in Leeds in September.
UTC Leeds will take pupils from across the Leeds City Region, including the Bradford district. Tim Parkinson said:
"Finding people with the correct skills and talents is an ever-increasing challenge for those of us working in engineering and manufacturing. We need our young people to seriously consider working towards careers in our industries. The opportunities for them are superb and they could play a critical role in ensuring the continued success of businesses like ours". "UTC Leeds is rooted in the world of work and has backing from the region's most innovative and progressive employers. We're very proud to support the UTC and urge young people from across Bradford to consider applying. It's the ideal route for getting started in engineering and manufacturing."
UTC Leeds principal Mark Kennedy added: "This school offers a gateway to fulfilling and lucrative careers in manufacturing and engineering. The facilities and tuition at UTC Leeds will be among the very best in the UK. We would ask those interested to get their applications in quickly. We have 105 places for year ten pupils next year and those places are quickly filling up. We would love to hear from interested pupils and parents in the Bradford area and they are welcome to come along to our official launch on January 12th between 2pm-8pm at Leeds Civic Hall."
The UTC, which is targeting teenage girls to make up at least 30 per cent of its student intake, will be in the west wing of the Braime Pressings factory on Hunslet Road.
Airedale Springs, which celebrated its 70th anniversary last year, operates from a £3.5 million purpose-built factory constructed after its previous base was destroyed by fire in 2010.
The firm, which has more than 30 employees supports the Advanced Manufacturing and Engineering Centre of Excellence at the Keighley campus of Leeds City College, run as a partnership between employers, Bradford Council and Oakbank School, which aims to produce the next generation of engineers.