At Airedale Springs, we provide high-quality springs and wire forms for clients across a wide range of industries, from electronics to transportation. As wire form manufacturers, we create products tailor-made to your specifications and the demands of your sector, always using the best CNC equipment on the market.
Take a look at why you need wire forms for your next project and how we can help.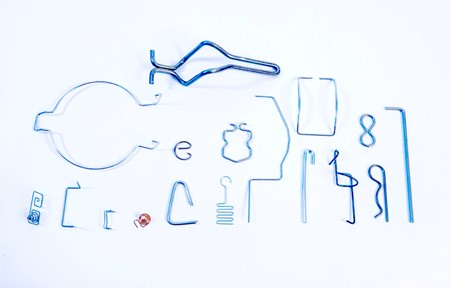 What Are Wire Forms?
Simply put, wire forms refer to wire that has been bent or formed into a specific shape, which means they can look like virtually anything – this versatility is a big reason for their popularity. You can also have wire forms in any size or length, making them suitable for many different applications.
Wire forming can be done manually by manipulating the wire until it achieves the shape you're looking for, or automatically, in which the wire is fed into a machine that's been pre-programmed to transform it into the desired shapes.
When it comes to wire forming, Airedale Springs can manufacture a large array of products into both simple and complex designs. Our machines can manipulate the wire as much as we need them to – they can be bent in every direction, cut, coiled and angled at will, so you'll always get the dimensions and configuration you require.
We're also spring manufacturers, so we can manufacture everything from compression springs to torsion springs and anything else in-between – speak to us if you'd like more information about our services.
Where Are Wire Forms Used?
You can find wire forms in many different places, sectors and products, including – but not limited to – the following:
Battery contacts
Safety pins
Domestic appliances
Electronics
Light fixtures
Construction equipment
Medical equipment (such as dental tools and bedside machines)
Cable management
Wire racks in the food industry
And more
We've written a blog about the most common uses for wire forms that will give you an idea of where you can find these useful products!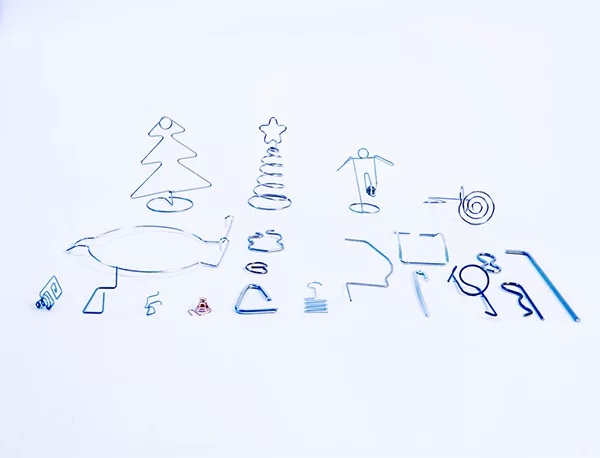 You can also benefit from our custom springs, including wire forms designed to fit into any product. We'll use the dimensions you provide to create your custom wire form, making sure to advise you and communicate with your every step of the way. Our honest and transparent approach ensures you receive a high-quality end product made from the most suitable materials for your application.
Our bespoke springs and wire forms are made by a highly skilled team so that you can expect quality at all times. In addition to this, we can offer any quantities, even if you need one product as a prototype, for instance.
Which Materials Are Best Suited for Wire Forms?
Wire forms can be manufactured from many different materials, meaning we can easily create a product to your exact specifications and requirements.
Stainless steel is a key material for springs and wire forms, including the grades 304, 316 and 330 of stainless steel, since they're highly resistant to corrosion and wear and tear, are strong, hard, and possess a great degree of resistance to heat and cold temperatures.
Another material that's popular in wire forming is Inconel, which is a nickel and chromium alloy. It's specially designed for applications in which resistance to high temperatures is a concern, like engines and turbines, for example.
You can also get wire forms made from aluminium, as this metal is often chosen when a design is hard to make in other materials. Aluminium has many properties that make it sought-after in spring manufacturing and wire forming, such as its light weight, strength and resistance to corrosion.
Brass should be considered as well. As an alloy of copper and zinc, this material is also resistant to corrosion. In addition, it's thermally conductive and looks great if your wire forms are installed in an area with a lot of foot traffic.
If you need a material that's not just strong but also resistant to wear and tear, with good shape memory and resistant to shock, you may want to consider carbon steel. We work heavily with this material at Airedale Springs, so we understand how to make the best of it, no matter the size or shape of the wire form.
Wire forms can be made up of many other materials, and we can work with most of them, so get in touch with us to learn more about our offerings.
Challenges of Wire Forming
Some of the challenges associated with wire forming are often due to individual projects. This is because each project is one of a kind and has unique demands.
Choosing the right materials for the job is also important since the wrong decision can mean the product doesn't work as it should, becomes damaged easily, or has a shorter than expected lifespan. Depending on your industry, this can be hazardous, not to mention expensive (and time-consuming to fix).
Complex designs can be hard to manufacture, including bending the wire just right to form the correct shape in the exact size it needs to be.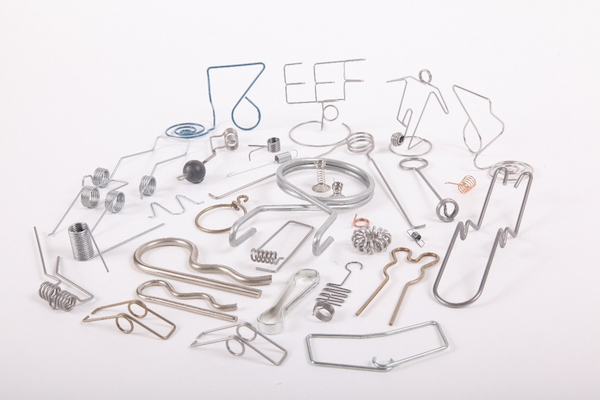 Of course, if you choose a reputable spring and wire form manufacturing company such as Airedale Springs, you can rest assured that we can easily overcome any challenge thrown our way. From creating complex shapes to handling large volume orders, we've got it all figured out.
Call us on 01535 643456 or send us your enquiry to sales@airedalesprings.co.uk, and we'll be happy to discuss your next wire forming project with you.